This balsamic vinaigrette is a staple in our house.
I have to admit, I'm not a huge fan of balsamic dressing. So, I called in reinforcements and asked my friend Melanie, aka resident balsamic dressing aficionado to come over and taste test so my version would be be up to snuff.
We settled on a mild version of this classic favorite. For those of you balsamic beaters, you can always kick up the acid a notch until you find your perfect blend.
Thanks Melly!
THE BLENDAHOLIC SHOW TRAILER

THE BLENDAHOLIC SHOW TRAILER: Hi, my name is Tess and I'm a Blendaholic. Every Monday I share super easy recipes you can make in your blender! I'm blending up smoothies, cocktails, soups, appetizers, snacks, main meals, and desserts. There isn't anything I won't try in a blender, and all of the recipes are mind-blowingly delicious. So, dust off your blender, and tune in to The Blendaholic every Monday at 7AM PST to find your perfect blend. Find more easy healthy recipes at The Blender Girlhttps://www.theblendergirl.com/

Posted by The Blendaholic on Monday, January 22, 2018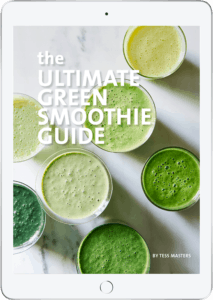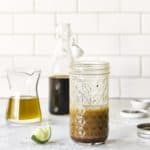 Balsamic Vinaigrette
This basic homemade balsamic salad dressing is quick, easy, healthy, and delicious!
Ingredients
1/2

cup (120ml)

extra-virgin olive oil

2

tablespoons

balsamic vinegar,

plus more taste 

1

tablespoon

fresh lime juice,

plus more to taste

2

teaspoons 

pure maple syrup,

 plus more to taste

1

teaspoon

minced garlic

(1 clove)

1/4

teaspoon 

Celtic sea salt,

plus more to taste

1/8

teaspoon 

freshly ground black pepper,

plus more to taste
Instructions
Throw all of the ingredients into a glass jar, secure the lid, and shake vigorously to combine. Tweak sweetener, garlic, salt, and pepper to taste. 

Chill in the fridge to allow the flavors to mesh. The dressing will keep for about a week.