This raw dehydrated falafel recipe comes from Eva Rawposa from Uncooking 101 and I'm serving them with my lemon garlic aioli.
I featured Eva's Raw Virgin Margarita, Raw Ranch Dressing, and her delicious Raw Brazil Nut Chocolate Milkshake.
Eva is a raw chef and vegan health educator who is passionate about raw foods, and her site is a great resource for easy recipes, and articles on: making rejuvelac, sprouting; using the pulp from juicing, eating raw on a budget, understanding raw food ingredients, and more.
I've tried loads of Eva's recipes and they're always great. Some of my favorites are: raw vegan lobster mushroom bisque, creamy butternut squash soup, blueberry pecan pie, raspberry coconut parfait, and raisin walnut truffles.
These raw dehydrated falafels are really delicious, and are a much healthier alternative to traditional deep-fried falafels. They don't need very much time in the dehydrator, either. I keep them in for about 8 hours so they're crispy on the outside to replicate a more traditional falafel experience.
THE BLENDAHOLIC SHOW TRAILER

THE BLENDAHOLIC SHOW TRAILER: Hi, my name is Tess and I'm a Blendaholic. Every Monday I share super easy recipes you can make in your blender! I'm blending up smoothies, cocktails, soups, appetizers, snacks, main meals, and desserts. There isn't anything I won't try in a blender, and all of the recipes are mind-blowingly delicious. So, dust off your blender, and tune in to The Blendaholic every Monday at 7AM PST to find your perfect blend. Find more easy healthy recipes at The Blender Girlhttps://www.theblendergirl.com/

Posted by The Blendaholic on Monday, January 22, 2018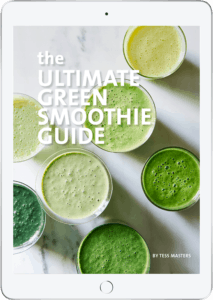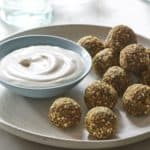 Raw Dehydrated Falafel
This raw vegan dehydrated falafel is a healthy gluten-free alternative to conventional falafel.
Ingredients
falafel:
2

cups

roughly chopped carrots

1

cup

raw sunflower seeds

1/4

cup

flaxseeds,

ground (after grinding is 1/3 cup)

1

teaspoon 

minced garlic

(1 clove)

1/2

teaspoon 

ground cumin

1/2

teaspoon 

curry powder

1/4

teaspoon 

Celtic sea salt

1/8

teaspoon 

red pepper flakes,

plus more to taste

1/2

cup

finely chopped flat-leaf parsley 

3

tablespoons

finely diced yellow onion

1/2

cup

sesame seeds 
Instructions
To make the falafel, throw the carrots into a food processor fitted with the s blade, and process until the carrots have a paste-like consistency. 

Add the sunflower seeds, flax seeds, garlic, cumin, curry powder, salt, and pepper flakes, and process until well combined. Add the onion and parsley, and pulse until well combined. (You may need to scrape down the sides of the container.) 

Transfer the ingredients to a mixing bowl, and stir in the sesame seeds until well combined. 

Using a tablespoon measurer, scoop out batter and roll into balls. 

Place the balls onto mesh dehydrator sheets and dehydrate for 4 to 6 hours, depending on how moist you prefer the inside to be. The longer you dehydrate, the more crisp the outside will be.

Serve the falafels with aioli for an appetizer or snack, or serve in wraps or pita with tabouli and avocado.