Mayim Bialik's Vegan Mac and Cheese
---
March 23, 2014
Mayim Bialik's vegan mac and cheese recipe is easy and popular with kids. You can throw this easy dish together in less than 30 minutes.
This super easy vcgan mac and cheese recipe comes from Mayim Bialik. You can throw this simple dinner together in less than 30 minutes and it's really popular with kids.
Mayim says of her vegan mac and cheese, "People often ask vegan children if they miss macaroni and cheese. With this recipe, your kids don't have to miss out on the creamy comfort food many kids think comes from a box. The vegan cheese sauce can be poured and mixed directly into cooked pasta or baked in a casserole. Either way, it is an exceptionally yummy and satisfying dish you'll find yourself making when you crave comfort food in a jiffy."
This Emmy-nominated actress for CBS's The Big Bang Theory also has a PhD in neuroscience and is a great cook, and mother of two boys who has is raising as conscious vegans.
In her cookbook, Mayim's Table she shares quick easy recipes that make it easy for busy parents to cook nutritious, healthy meals the whole family can enjoy. The best thing about her recipes is that they are totally fuss-free, super-easy, and inexpensive. There are over 100 plant based family recipes for breakfasts, snacks, lunches, dinners, and desserts that are both kid and parent-approved including: Fruity Oatmeal Muffins, Vegan Reuben Sandwiches, Brussels Sprouts Chips, Vegetable Risotto, Daiya-Style Pizzas, Zucchini Pie, Dilled Chickpea Burgers With Spicy Yogurt Sauce, Plum and Walnut Crisp. Challah Bread, Mandel Brodt (Jewish Biscotti) and this super easy Mac and Cheese.
But, there's more than recipes in this book.Teaming up with pediatrician Dr. Jay Gordon (a prominent pediatrician and long-time member of the attending staff of UCLA's Medical School) this cookbook debunks myths about raising a vegan family and provides essential information about vegan nutrition, must-haves for a plant based pantry, and strategies for meal planing and eating out.
This book has a lot of information for busy parents and tons of great vegan recipes.
Get your copy of Mayim's Vegan Table and let me know what think of this vegan mac and cheese.
THE BLENDAHOLIC SHOW TRAILER

THE BLENDAHOLIC SHOW TRAILER: Hi, my name is Tess and I'm a Blendaholic. Every Monday I share super easy recipes you can make in your blender! I'm blending up smoothies, cocktails, soups, appetizers, snacks, main meals, and desserts. There isn't anything I won't try in a blender, and all of the recipes are mind-blowingly delicious. So, dust off your blender, and tune in to The Blendaholic every Monday at 7AM PST to find your perfect blend. Find more easy healthy recipes at The Blender Girlhttps://www.theblendergirl.com/

Posted by The Blendaholic on Monday, January 22, 2018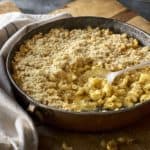 Mayim Bialik's Vegan Mac and Cheese
Mayim Bialik's vegan mac and cheese recipe is super easy and really popular with kids. You can throw this easy dish together in less than 30 minutes.

Ingredients
1

(16oz) pack

gluten-free macaroni

1 1/4

cups

unsweetened almond milk

2

tablespoons

all-purpose gluten-free flour 

1

(8oz)

bag shredded vegan cheddar cheese

2

tablespoons

nutritional yeast,

plus more to taste

1

teaspoon

Celtic sea salt,

plus more to taste

Freshly ground black pepper,

to taste (optional)

1/2

cup

gluten free bread crumbs
Instructions
Cook the pasta according to the package directions. Drain when al dente and place in a large bowl.

Preheat the oven to 350°F/180°C.

Heat 1 cup of the nondairy milk in a medium saucepan over medium heat. In a cup, whisk the flour into the remaining 1/4 cup of milk until dissolved. Add it slowly to the heated milk, whisking as you go. Add the shredded cheese, nutritional yeast, salt, and pepper and stir constantly until the cheese is dissolved and the sauce is bubbly, about 5 minutes.

Pour the cheese sauce over the pasta, and stir to combine.

Grease a 9 by 13-inch baking dish with oil, and transfer the coated pasta into the dish. Cover the pasta with the bread crumbs. Bake, covered, for 20 minutes. Uncover and broil until browned on top, about 5 minutes.