Coconut Lemongrass Soup
---
March 10, 2014
This coconut lemongrass soup has a mind-blowing flavor that will rock your world! This soup is really quick and easy. Do not miss it!
This coconut lemongrass soup has a mind-blowing flavor that will rock your world! And, it is so quick and easy. I cannot rave enough about this soup. The exquisite flavor will make you weak in the knees. This is one of the most amazing recipes I have ever made. Seriously.
I got this coconut lemongrass soup from Brendan Brazier's new Thrive Energy Cookbook. People are raving about this book, and now I know why! The recipes are super easy and delicious, and the photography by Kevin Clark is stunning.
I'm a huge fan of Brendan's books and have featured several of his recipes on the site. But, he's really stepped it up a notch with this book. It is his best book ever aimed at making plant based eating more accessible.
For those of you who don't know Brendan, he is the international bestselling author of Thrive, Thrive Foods, and Thrive Fitness. Brendan is head of nutrition for the Garmin-Sharp Pro Cycling Team and nutrition consultant to several NHL, MLB, NFL, MLS, UFC, and Olympic athletes. He is a former professional Ironman triathlete, two-time Canadian ultra-marathon champion, and creator of Vega.
Brendan shares his knowledge in a digestible way that's easy to understand. There are plant-based nutrition tips (love the alkaline section with food charts), thrive pantry staples, energy boosting tips, and awesome recipes for smoothies, juices, energy drinks, warm elixirs, breakfasts, appetizers, sides, sauces, dips, sandwiches, wraps, burgers, soups, salads, salad dressings, rice and noodle bowls, desserts, and workout recipes. There are also menu plans for transitional, standard, and athletic goals.
I spent two hours flipping through the recipes deciding which one I was going to make first. Some of my favorites include: Red Lentil Falafels with Artichoke Tapenade, Black Bean Veggie Burgers, Spicy Miso Mushroom Soup, Watermelon, Cucumber & Strawberry Salad, Big Green Curry Kelp Noodle Bowl, Super-Fruit Sangria Smoothie, Kale Mojito, Heavenly Pistachio Bliss, Amino Super-Sprout Juice, Chocolate-Truffle-Caramel Mocha, and Blood Orange & Ginger Citrus Tart.
Just make this coconut lemongrass soup and snag your copy of this book now. You will not be sorry.
THE BLENDAHOLIC SHOW TRAILER

THE BLENDAHOLIC SHOW TRAILER: Hi, my name is Tess and I'm a Blendaholic. Every Monday I share super easy recipes you can make in your blender! I'm blending up smoothies, cocktails, soups, appetizers, snacks, main meals, and desserts. There isn't anything I won't try in a blender, and all of the recipes are mind-blowingly delicious. So, dust off your blender, and tune in to The Blendaholic every Monday at 7AM PST to find your perfect blend. Find more easy healthy recipes at The Blender Girlhttps://www.theblendergirl.com/

Posted by The Blendaholic on Monday, January 22, 2018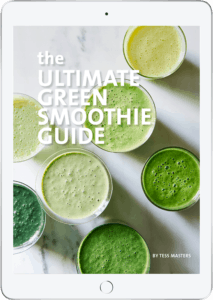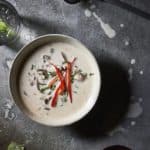 Coconut Lemongrass Soup
This vegan coconut lemongrass soup has a mind-blowing flavor that will rock your world! This soup is really quick and easy. Do not miss it!

Ingredients
1

tablespoon

toasted sesame oil

1

tablespoon

extra-virgin olive oil

1

cup

diced onion 

2

teaspoons

minced garlic

(2 cloves)

1

tablespoon

fresh minced ginger

1

stalk

celery,

finely chopped

1

cup

sliced shiitake mushrooms 

1 1/2 

cups

vegetable broth

2

(14 oz/400ml) cans 

full-fat coconut milk

1

tablespoon

minced red chile,

plus more to taste

1

stalk

fresh lemongrass (left whole),

top cut off and pounded to release aromatics and flavors

1

stalk

fresh lemongrass stalk,

top cut off, and thinly sliced

1/2

cup

shredded Thai basil leaves

2

tablespoons

fresh lime juice

2

teaspoons

wheat-free tamari

Celtic sea salt and fresh ground pepper

1/2 

red bell pepper,

julienned
Instructions
In a large saucepan over medium heat, warm the olive oil and sesame oil, and sauté the onion, garlic, ginger, celery, and mushrooms for about 5 minutes until the onions are translucent, and the mushrooms have softened. 

Add the vegetable broth, coconut milk, chile peppers, and lemongrass stalks. Bring to a boil, and then reduce to heat to low, and simmer for about 10 minutes to allow the flavors to mesh. 

Remove from the heat, and stir in the tamari, lime juice, Thai basil leaves, and julienned red bell peppers. Season with salt and pepper, to taste, and serve.