Allergy Free Apple Carrot Quinoa Flake Cookies
---
December 3, 2012
These allergy free apple carrot quinoa flake cookies are really delicious and really easy to make.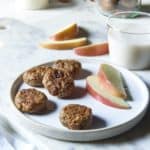 Allergy Free Apple Carrot Quinoa Flake Cookies
These gluten-free vegan apple carrot quinoa cookies from Hallie Klecker are delicious!
Instructions
Preheat the oven to 350°F (180°C), and line a baking sheet with parchment paper. 

Grate the carrot in your

food processor

, and hand grate the apple for the best results.

In a large bowl, combine the carrot and apple with the dry ingredients, and then mix in the sunflower seed butter and maple syrup.

Stir the combine thoroughly and form a cohesive mass of dough. Then mix in the raisins.

Using moist hands, roll tablespoons of the dough into balls and place them 1-2 inches apart on the lined baking sheet. 

Bake the balls for 20 to 30 minutes, until cooked through and browned.  

Cool completely, and store in an airtight container in the fridge.