I am so excited to share Hallie Klecker's fabulous new book, Super Healthy Cookies. You may remember Hallie from my Gluten Free Baking event, where she shared her scrumptious Gluten Free Dairy Free Grain Free Chocolate Chip Cookie Cupcakes. If you are looking for healthy indulgences these holidays, her latest book is loaded with sensational ideas. All of the delicious recipes are gluten free, dairy free, and refined sugar free; and over 25 recipes are also vegan.
What I love about Hallie's recipes is that they use natural ingredients — whole grain gluten free flours with an emphasis on nut and seed flours, and they are nutrient dense, using high fiber flaxseeds, chia seeds, and psyllium husks to boost the goodness. Unlike most gluten free baked goods, Hallie's recipes don't contain any gums or artificial binders to hold them together. The best thing about Hallie's treats is that they are not too sweet. In fact, Hallie provides a sweetness rating of low, medium, and high to guide the reader through her healthy happy "cookie monster" journey.
It is a glorious ride, including crowd-pleasing recipes like German Chocolate Cake Bars, Coconut Lime Wafers, Buckwheat Gingerbread Cookies, Chai Sesame Sweeties, Sunflower Brownie Freezer Treats, Chewy Fig and Oat Bars, Chocolate-Covered Mint Patties, and these fantastic Apple Carrot Quinoa Balls. These quick easy baked gluten free balls rock! They are super easy to make, and strike a wonderful balance between savory and sweet.
What I love about these balls is that they are baked — slightly crispy on the outside, and moist and chewy on the inside. I have posted a lot of raw vegan balls, but all of them contain nuts, as do most of the "ball" recipes out there. This great recipe offers a nut-free alternative using quinoa flakes and sunflower seed butter instead of nuts. These are also loaded with nutrients – loads of antioxidants, fiber, healthy fats, plant-based vitamins and minerals, and delicious flavor in every bite. They are hard to quit eating. I admit to having eaten half the batch in one sitting!
I can't wait to make some more of Hallie's inventive creations. This book is like a mini tutorial for creating healthy cookies, balls, bars, and no-bake treats. Hallie provides an ingredient and kitchenware glossary, as well as baking insights, ingredient substitution tips, healthy boosting suggestions, a resources guide, and a detailed trouble shooting Q&A. I particularly like the "Wellness Tips", "Ingredient Spotlights" and "Baking Stories" featured throughout.
There is a lot of heart in this book. Hallie's love of cookies, and family legacy of creative experimentation shines through. Check out Hallie's first book, The Pure Kitchen is full of delicious recipes.
Don't miss making these apple carrot quinoa flake cookies. They are amazing.
THE BLENDAHOLIC SHOW TRAILER

THE BLENDAHOLIC SHOW TRAILER: Hi, my name is Tess and I'm a Blendaholic. Every Monday I share super easy recipes you can make in your blender! I'm blending up smoothies, cocktails, soups, appetizers, snacks, main meals, and desserts. There isn't anything I won't try in a blender, and all of the recipes are mind-blowingly delicious. So, dust off your blender, and tune in to The Blendaholic every Monday at 7AM PST to find your perfect blend. Find more easy healthy recipes at The Blender Girlhttps://www.theblendergirl.com/

Posted by The Blendaholic on Monday, January 22, 2018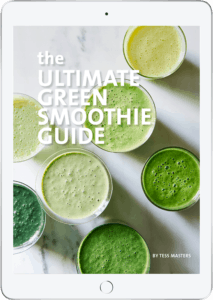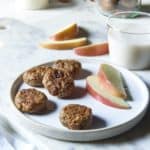 Allergy Free Apple Carrot Quinoa Flake Cookies
These gluten-free vegan apple carrot quinoa cookies from Hallie Klecker are delicious!
Ingredients
1

cup

loosely packed coursely grated carrots

(about 2 medium)

1/2

cup

packed coursely grated peeled apple

(about 1 apple)

1/2

cup 

quinoa flakes

1/3

cup

unsweetened sunflower seed butter

1/4

cup

pure maple syrup

1

tablespoon

ground chia seeds

1

teaspoon

ground cinnamon

1/4

teaspoon 

baking soda

1/4

teaspoon 

Celtic sea salt

1/4

cup 

raisins

(or dried currants)
Instructions
Preheat the oven to 350°F (180°C), and line a baking sheet with parchment paper. 

Grate the carrot in your food processor, and hand grate the apple for the best results.

In a large bowl, combine the carrot and apple with the dry ingredients, and then mix in the sunflower seed butter and maple syrup.

Stir the combine thoroughly and form a cohesive mass of dough. Then mix in the raisins.

Using moist hands, roll tablespoons of the dough into balls and place them 1-2 inches apart on the lined baking sheet. 

Bake the balls for 20 to 30 minutes, until cooked through and browned.  

Cool completely, and store in an airtight container in the fridge.