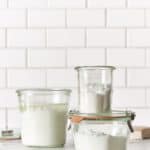 Baking Soda Cream Cleaner
I use one of these three simple mixtures every week to clean my kitchen and bathroom surfaces when I need a bit of gentle abrasion.
Ingredients
non-abrasive soft scrubber:
soap scum and residue cleaner:
Instructions
To make the natural scouring cream, mix the baking soda and essential oils. This will be a powder consistency. Then gradually add in just enough liquid castile soap to form a paste. I add in 10 drops at a time and keep stirring. Usually it is about 120 drops.

To make the soft scrubber, mix the borax with just enough soap to form a creamy paste. Add the lemon oil and mix well. Put a small amount of this mixture onto a sponge, wash the surface, then rinse well.

To make the soap scum and water residue cleaner, mix water, soap and baking soda very well. Add in vinegar. Use this solution to clean the sink with a damp cloth and then rinse well.