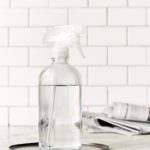 Natural Glass and Window Cleaner
You will be amazed with the results of this vinegar and water solution!
Instructions
Stir this together and put the mixture in a spray bottle (or you can sponge the mixture onto the glass surface). Then take a sheet of newspaper to wipe clean. You may need to wash extremely dirty surfaces with warm soapy water before applying vinegar for the best results. Straight or diluted vinegar rubbed on with newspaper is also very effective.  To remove streaks from glass and mirrors use a soft cloth with undiluted vinegar. Rinse glasses in vinegar to make them sparkle, then rinse thoroughly with water to remove vinegar smell.