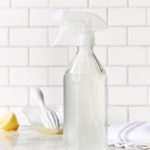 Natural DIY Surface Cleaner
This natural DIY surface cleaner is really effective for cleaning most household surfaces.
Instructions
Mix the ingredients together in a spray bottle. 

*This surface spray acts as a natural disinfectant. It's effective on shiny surfaces, and doesn't require rinsing. Always do a small test on surfaces you're unsure of. Spray a small amount on, and observe any reactions. 

**This spray should not be used on marble surfaces as it contains vinegar. 

***You can soak lemon halves in vinegar for up to a week for even better results.