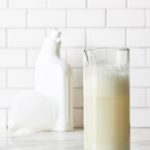 Natural Homemade Toilet Bowl Cleaner
This natural homemade toilet bowl cleaner is quick and easy to make, costs pennies, smells divine, and really works!
Instructions
Stir the baking soda into the water.

Add in the castile soap.

Then gradually add in the vinegar a little bit at a time. It will foam and fizz like soda.

Lastly, add in the tea tree oil and lavender essential oil.

Transfer this mixture to an old toilet cleaner squeeze bottle. Give the bottle a shake before using. 

This works to clean the toilet seat and toilet bowl.

For really dirty bowls you can apply straight vinegar or make a solution of 1 cup borax and 1/2 cup fresh lemon juice.