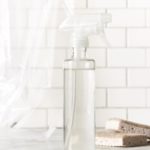 Natural Mold Cleaner
This solution is absolutely fantastic for cleaning mold and mildew.
Instructions
Dissolve the borax and vinegar in the warm water.

Add in the tea tree oil.

Pour this into a spray bottle.

Spray the affected areas and scrub with a brush.

Rinse with warm water and wipe over.

This is fantastic for shower curtains and shower walls.