This natural mold cleaner is also fantastic for cleaning mildew. My mum has always cleaned the bathroom with vinegar, baking soda, lemon juice, and tea tree oil. She will often get a soft cloth and wipe the basins out with pure tea tree oil before guests arrive to naturally disinfect and clean surfaces and give them a gorgeous fresh smell. It works a treat.
We feel very Australian using native tea tree oil all over the house.
The powerful medicinal and anti microbial powers of tea tree oil are incredible. If you don't have a bottle of this magical stuff in your house get one. Tea tree oil can be used to treat all kinds of wounds, skin ailments, coughs and colds. But it is absolutely fantastic for cleaning mold and mildew.
My mum and dad live in a Victorian terrace house with an old claw-foot bath in their bathroom with an old-fashioned shower curtain. It all looks incredible, but can be a pain to clean.
My mum cleans it once a week by using this homemade tea tree spray and a scrubbing brush.
She sprays this solution on, gives it a good scrub, and then soaks it, rinses it, and hangs it out to dry in the sunshine. This natural mold cleaner also works well on bathroom tiles and surfaces.
Give this natural mold cleaner a go and let me know if it works for you.
THE BLENDAHOLIC SHOW TRAILER

THE BLENDAHOLIC SHOW TRAILER: Hi, my name is Tess and I'm a Blendaholic. Every Monday I share super easy recipes you can make in your blender! I'm blending up smoothies, cocktails, soups, appetizers, snacks, main meals, and desserts. There isn't anything I won't try in a blender, and all of the recipes are mind-blowingly delicious. So, dust off your blender, and tune in to The Blendaholic every Monday at 7AM PST to find your perfect blend. Find more easy healthy recipes at The Blender Girlhttps://www.theblendergirl.com/

Posted by The Blendaholic on Monday, January 22, 2018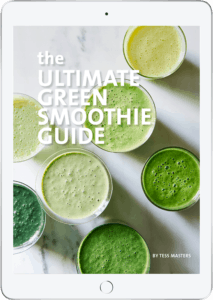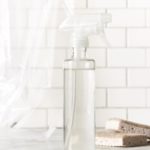 Natural Mold Cleaner
This solution is absolutely fantastic for cleaning mold and mildew.
Instructions
Dissolve the borax and vinegar in the warm water.

Add in the tea tree oil.

Pour this into a spray bottle.

Spray the affected areas and scrub with a brush.

Rinse with warm water and wipe over.

This is fantastic for shower curtains and shower walls.