Chamomile Corn Chowder
---
April 8, 2015
This vegetarian corn chowder infused with chamomile tea such has fabulous flavor. This is an elegant starter or simple dinner.
This vegetarian corn chowder infused with chamomile tea such has fabulous flavor that sets this corn chowder apart from the thousands of conventional recipes out there. For something different, be open and give this recipe a go.
Tea is the most popular beverage in the world. My mother is a tea freak, and drinks about 20 cups a day! But, have you ever cooked with it?
I've made smoothies, desserts, and baked goods with a variety of teas. But, not much beyond that. There is a whole world of flavors to discover when infusing tea at every meal, and with Steeped: Recipes Infused With Tea – Annelies Zijderveld takes the home cook and reader on a culinary journey of discovery that is innovative, creative, and refreshing.
Annelies is a dear friend of mine and I got this amazing corn chowder recipe from her.
After hearing about the book for over a year and tasting a few of the vegetarian recipes during the development I was utterly delighted when I received the finished book. It is just a triumph.
The book is brilliantly branded and designed (with the cover and titles looking like old-fashioned tea labels, and beautifully written. After heading up the marketing team at Mighty Leaf Tea and working for numerous other food companies, and starting the literary food blog, The Foot Poet, this talented lady has brought all of her skills together as an accomplished and compelling cookbook author.
This is going to be my tea bible from here on out. There's great information about the personality of each of the key teas: black, earl grey, lapsang souchong, masali chai, dragon well. jasmine, moroccan mint, matcha, chamomile, and rooibos. Then, there's tips for the preparation of the tea for use in the recipes: ground tea, tea spice blends, brewed tea, hot tea infusions, cold tea infusions, and poaching in tea. There's step-by-step instructions for brewing black, green, oolong, herbal tisane, iced tea, and others. I learnt so much from reading this book! I will be referring to it again and again to create my own recipes using tea.
I'm so inspired to use tea more after cooking the recipes in this book! All of the recipes are vegetarian, and many are gluten-free and vegan. I loved the green tea granola, masala chai applesauce, cranberry coconut rooibos oat porridge, earl grey yogurt parfaits, matcha chia pudding, and chamomile lassi. I 'm also eyeing off the buddha's hand rooibos marmalade, spinach salad with pears and masala chai maple pecans, California tea leaf salad, teabbouleh, earl grey soba noodle salad, green tea guacamole with grapefruit tea toast, hurricane popcorn with tea furikake, mint pea soup (using Moroccan mint green tea instead of broth!), creamy broccoli soup (using green tea instead of broth), and this incredible corn chowder using chamomile tea! The orange jasmine brussels sprouts look pretty incredible, as do the portobello steak frites with lapsang souchang tea, cauliflower steaks with tea umami sauce, and chamomile risotto with currants. I haven't tried the desserts yet, but I've marked the rooibos red fruit kanten for the weekend!
If you've got a favorite tea that you want to play with you can search for recipes by tea at the back of the book. I'm particularly obsessed with lapsang souchong tea and the incredible smoky flavor it brings to dishes after using this book. Wow! What a revelation.
It was really challenging to pick just one recipe to feature. There were so many that looked good. But, I love soups and was so intrigued by the combination of chamomile and corn. Annelies says in her head note: "The floral honeyed tones of chamomile beautifully complement the sweetness of corn. This chowder owes its body to being half puréed, rather than to cream or butter, making it naturally vegan. I use frozen corn here, but if you're lucky enough to find fresh organic corn, by all means use it." Yes, the flavors were delightful.
Get your copy of Steeped, and learn more about Annelies at The Food Poet.
THE BLENDAHOLIC SHOW TRAILER

THE BLENDAHOLIC SHOW TRAILER: Hi, my name is Tess and I'm a Blendaholic. Every Monday I share super easy recipes you can make in your blender! I'm blending up smoothies, cocktails, soups, appetizers, snacks, main meals, and desserts. There isn't anything I won't try in a blender, and all of the recipes are mind-blowingly delicious. So, dust off your blender, and tune in to The Blendaholic every Monday at 7AM PST to find your perfect blend. Find more easy healthy recipes at The Blender Girlhttps://www.theblendergirl.com/

Posted by The Blendaholic on Monday, January 22, 2018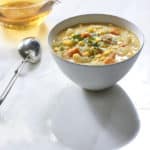 Chamomile Corn Chowder
This vegetarian corn chowder infused with chamomile tea such has fabulous flavor. This is an elegant starter or simple dinner.

Ingredients
1

tablespoon

grapeseed oil

(or extra-virgin olive oil)

1 1/2

cups

diced white onion

1/4

cup

diced green bell pepper

2

teaspoons

Celtic sea salt,

plus more to taste

1/8

teaspoon

freshly ground black pepper,

plus more to taste

1 1/2

cups

peeled and cubed yellow potato

1

cup

peeled and diced orange-fleshed sweet potato

3 1/2

cups

chamomile tisane,

brewed (4 bags)

1

pound

frozen organic corn kernels

2

tablespoons

chopped flat-leaf parsley
Instructions
In a large saucepan over medium heat, warm the oil and sauté the onion and bell pepper with 1/4 teaspoon of the salt and 1/8 teaspoon pepper for about 5 minutes until soft. Add the potatoes, sweet potato, and chamomile tea. Increase the heat to medium-high, and once boiling, cover and lower the heat to medium, and allow simmer for about 5 minutes until the potatoes are just fork-tender. Raise the heat to high, stir in the corn, and cook for a further 3 minutes just until the corn is heated through. Remove the pot from the heat and allow to cool slightly. 

Ladle half of the soup into your blender, avoiding the sweet potato (or the soup will turn orange). Blast on high for 30 to 60 seconds until smooth and creamy. (For conventional blenders, remove the small center lid cap and cover the opening with a kitchen towel so steam can escape while you blend.) 

Return the puréed soup to the pot and stir to integrate. Season to taste. 

To serve, ladle the soup into bowls and garnish with fresh parsley.