Ottolenghi's Roasted Butternut Squash
---
March 18, 2015
This roasted butternut squash with cardamom and nigella seeds is from the brilliant Yotam Ottolenghi. If you want a show-stopping vegetarian dish, this is it!
This roasted butternut squash with cardamom and nigella seeds is from the brilliant Yotam Ottolenghi. If you want a show-stopping vegetarian dish, this is it!
I've never worked with nigella seeds. Nigella sativa seeds are also known as kalonji, fennel flower, nutmeg flower, black caraway, and Roman coriander. They are often used as a substitute for black cumin.
Nigella is used as part of a five-spice mixture commonly referred to as paanch phoran or panch phoron in Indian cuisine, and is also used by itself in naan bread and other recipes in Bengali cuisine. You can purchase them online or at Indian grocers.
This roasted butternut squash is so delicious and just bursting with flavor. The sweet squash pairs beautifully with the cardamom and other spices. I served this with cauliflower rice and green vegetables and it was a huge hit!
If you love exquisite food, if you're looking for innovative recipes, if you love stunning food photography, if you're a cookbook fanatic, or you just don't want to be the only person on the planet that doesn't own a copy of Plenty More, I urge you to snag a copy of this extraordinary book!
I've been an Ottolenghi fanatic for years, ever since I started reading his column for The Guardian. I own all of his wonderful books: Ottolenghi, Plenty, and Jerusalem. And more recently, I've been obsessively cooking my way through his latest triumph, Plenty More. Every time "I'm in the kitchen with Ottolenghi" (Oh, I wish!) I feel like I'm getting a cooking lesson from the master of flavors. His food is so rich and full of dimension that you go on a journey to unknown places every time.
Plenty and Jerusalem were such bestselling, award-winning phenomenons, that people were clamoring for "plenty more" from this culinary superstar. Well, he doesn't disappoint in this latest offering. You really do get plenty more brilliance! This time around, he features 150 vegetarian dishes organized by cooking method: tossed, steamed, blanched, simmered, braised, grilled, roasted, fried, mashed, cracked, baked, and sweetened with an emphasis on spices, seasonality, and bold flavors. From inspired salads to hearty main dishes and scrumptious desserts, there is a wide variety of mouth-watering options.
Some of my favorite recipes include: tomatoes and roasted lemon salad, raw beet and herb salad, fig salad, sprout salad, miso vegetables and rice with black sesame dressing, sprouting broccolini and edamame salad, thai red lentil soup with aromatic chile oil, alphonso mango and curried chickpea salad, eggplant with black garlic, brussels sprouts with caramelized garlic and lemon peel, udon noodles with fried eggplant, walnut, and miso, and quince poached in pomegranate juice,
Get your copy of Plenty More and learn more about Yotam Ottolenghi.
THE BLENDAHOLIC SHOW TRAILER

THE BLENDAHOLIC SHOW TRAILER: Hi, my name is Tess and I'm a Blendaholic. Every Monday I share super easy recipes you can make in your blender! I'm blending up smoothies, cocktails, soups, appetizers, snacks, main meals, and desserts. There isn't anything I won't try in a blender, and all of the recipes are mind-blowingly delicious. So, dust off your blender, and tune in to The Blendaholic every Monday at 7AM PST to find your perfect blend. Find more easy healthy recipes at The Blender Girlhttps://www.theblendergirl.com/

Posted by The Blendaholic on Monday, January 22, 2018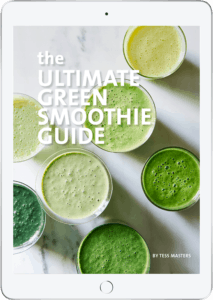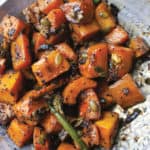 Ottolenghi's Roasted Butternut Squash
This roasted butternut squash with cardamom and nigella seeds is from the brilliant Yotam Ottolenghi. If you want a show-stopping vegetarian dish, this is it!

Total Time
1
hour
15
minutes
Ingredients
1 1/2 

tablespoons

vegan butter

1

tablespoon

extra-virgin olive oil

1

large

red onion,

halved and thinly sliced (1½ cups/170 g)

1

large

butternut squash,

peeled, seeded, and cut into 1 1/4-inch/3-cm chunks (2 3/4 lb/1 kg)

3 1/2 

tablespoons 

raw pumpkin seeds

1 1/4 

teaspoon 

nigella seeds

1/2

teaspoon 

ground cumin

1/2

teaspoon 

ground coriander

1/4

teaspoon 

ground turmeric

4

cardamom pods,

lightly crushed

1

large

cinnamon stick

1

green chile,

halved lengthwise

1

tablespoon 

super-fine sugar

1

scant cup (200ml)

vegetable broth

3/4

cup (150g)

vegan Greek yogurt

1

tablespoon 

finely chopped cilantro

Celtic sea salt,

to taste
Instructions
Preheat the oven to 425ºF/220ºC.

Place the butter and oil in a large sauté pan over medium heat. Add the onion and fry for about 8 minutes, until soft. Add the squash, increase the heat to medium-high, and cook for a further 10 minutes, stirring occasionally, until it starts to color. Remove from the heat and add the pumpkin seeds, 1 teaspoon of the nigella seeds, the cumin, coriander, turmeric, cardamom, cinnamon, chile, sugar, and 3/4 teaspoon salt. Mix well and transfer to a baking sheet large enough to hold the vegetables in a single but snug layer, about 10 by 12-inches/25 by 30-cm. Pour the stock over the squash and roast for 30 minutes, until the squash is tender. Set aside for about 10 minutes: the liquid in the pan will continue to be absorbed.

Serve warm, with the yogurt spooned on top or on the side, along with a sprinkling of the cilantro and the remaining 1/4 teaspoon nigella seeds.
Recipe Notes
Reprinted with permission from Plenty More: Vibrant Vegetable Cooking from London's Ottolenghi by Yotam Ottolenghi, copyright © 2014. Published by Ten Speed Press, an imprint of Random House LLC.
 
Photography: Jonathan Lovekin © 2014