Oyster Mushroom Soup
---
May 7, 2015
This oyster mushroom soup is vegan and gluten-free and has incredible flavor. Serve with crusty bread or a scoop of grain for a delicious meal.
This oyster mushroom soup is vegan and gluten-free, rich, earthy, creamy, and full of incredible flavor. Serve with a piece of crusty bread or a scoop of grain for a delicious meal.
I got this oyster mushroom soup recipe from the My New Roots cookbook by Sarah Britton.
Sarah says of this soup: "In early spring, when the weather is still deciding what to do with itself, I bury myself in bowls of soup to get through the last chilly days. This one, a deeply rich, creamy bisque, is a favorite because it is like getting a hug from the inside. Mushrooms are one of the few plant-based foods that offer umami—the elusive fifth taste—due to their abundance of glutamate. Because they are so satisfying, mushrooms often stand in for meat in vegetarian dishes, but one taste of this soup and you will agree that there is absolutely nothing missing. Bisque is often made with dairy, but my version uses blended beans to achieve a luxurious creaminess that mimics heavy cream but is virtually fat-free. In addition, beans deliver healthy vegetarian protein and a serious dose of filling fiber."
This book is absolutely stunning, and full of exquisite recipes. It's a must-have in any healthy kitchen.
I was honored to blurb this book after having been a huge fan of Sarah Britton's My New Roots website for years. She is just so delightful, with a natural, down-to-earth, loving and generous nature, and passion for good food that comes through with every post, every video, and every recipe. This infectious beauty has been translated in spectacular fashion in her highly anticipated debut cookbook with Clarkson Potter.
Every page of this book just screams, "devour me!" It's not just the divine and unique flavor combinations and the gorgeous photography, but also the wealth of information about healthy living, and the welcoming and accessible writing. I read the book cover to cover and was left wanting more. If you're striving to eat healthy and don't know where to start this book is an awesome how-to bible that you will be referring back to again and again.
This book is divided into seasons, as eating in harmony is such an integral part of Sarah's food philosophy. She makes this way of living so achievable by giving you all of the tools you need to make the lifestyle a reality in your home. It is all so simple.
All of the essential techniques are covered in the first section: how to cook dried legumes, how to cook grains, how to make ghee (if you eat dairy), how to make nut and seed milks, how to make nut and seed butter, how to sprout, and how to build flavors, and there is a fantastic pantry at the back of the book.
But the star of this book is the recipes! Some of my favorites include: carrot rhubarb muffins, sorrel hummus, carrot top and garlic scape pesto, Thai-styyle coconut soup with zucchini noodles, roasted parsnips with pomegranate glaze and za'atar, leek "scallops" and chanterelles on black rice, the best lentil salad ever, shaved turnip and radish salad with poppyseed dressing, celeriac ribbon salad with toasted cumin and pomegranate, creamy eggnog milkshake, strawberry and chamomile no-churn frozen yogurt, rawkin' funky money ice cream, walnut fig bars, and, of course, a new spin on The Life Changing Loaf of Bread that went viral on the net and launched Sarah into the stratosphere.
I am cooking my way through the book with joy and a very happy tummy and soul. I just love Sarah's flair for mixing simple fresh flavors with an exotic twist.
Try this oyster mushroom soup and get your copy of My New Roots and learn more about Sarah Britton.
THE BLENDAHOLIC SHOW TRAILER

THE BLENDAHOLIC SHOW TRAILER: Hi, my name is Tess and I'm a Blendaholic. Every Monday I share super easy recipes you can make in your blender! I'm blending up smoothies, cocktails, soups, appetizers, snacks, main meals, and desserts. There isn't anything I won't try in a blender, and all of the recipes are mind-blowingly delicious. So, dust off your blender, and tune in to The Blendaholic every Monday at 7AM PST to find your perfect blend. Find more easy healthy recipes at The Blender Girlhttps://www.theblendergirl.com/

Posted by The Blendaholic on Monday, January 22, 2018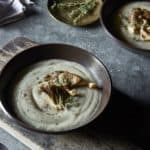 Vegan Oyster Mushroom Soup
This oyster mushroom soup is vegan and gluten-free, creamy, and full of incredible flavor. Serve with crusty bread or a scoop of grain for a delicious meal.

Ingredients
1/2

lb (224g)

oyster mushrooms

1

tablespoon

virgin coconut oil 

2

cups

diced yellow onion 

2

leeks (white and pale green part),

chopped

1

teaspoon 

Celtic sea salt,

plus more to taste 

1

tablespoon

finely chopped fresh thyme,

plus more for garnish 

1 1/2

tablespoons

minced garlic

(4 cloves)

2

tablespoons

fresh lemon juice,

plus more to taste

4

cups 

vegetable broth 

(1 quart/liter)

2

cups (350g)

cooked white beans

(navy, butter, cannellini)

1

tablespoon

wheat-free tamari,

plus more to taste 

1/4

teaspoon

freshly ground black pepper,

plus more to taste

2

tablespoons

extra-virgin olive oil
Instructions
Clean the mushrooms by removing any dirt or natural debris with a damp cloth (do not submerge them in water). Chop the mushrooms that are large, leaving the smaller ones intact.

Heat the coconut oil in a large pot and add the onions, leeks, a good pinch of sea salt, and the thyme. Cook for 5 minutes over medium heat, until the onions and leeks are soft. Add the garlic to the pot and stir.

Sprinkle the lemon juice into the pot and stir to loosen any browned bits. Stir in the mushrooms and cook on medium heat for about 5 minutes until the mushrooms are soft.

Meanwhile, combine the vegetable broth, beans, and tamari in a blender, and blend on high speed until creamy.

When the mushrooms are cooked, remove a few from the pot for garnish. Add the broth and bean mixture to the pot, stir well, and simmer for 5 minutes.

Ladle the soup into the blender, and blast on high speed until completely smooth. Add water or more broth to thin if necessary. Tweak salt, pepper, tamari, and lemon juice to taste.

Ladle the soup into bowls, and garnish with the reserved cooked mushrooms, a drizzle of olive oil, and some fresh thyme sprigs. 
Recipe Notes
Reprinted from My New Roots: Inspired Plant-Based Recipes for Every Season. Copyright © 2015 by Sarah Britton. Published by Clarkson Potter, an imprint of Penguin Random House, LLC.
Photo by Trent Lanz; styling by Alicia Buszczak