Vegan Frozen Grasshopper Drink
---
July 26, 2018
This healthier vegan grasshopper drink using Elmhurst cashew milk is so rich and creamy you'd never know it was dairy-free and didn't contain ice cream!
This frozen grasshopper drink is so rich, creamy, and delicious you'd never know it was dairy-free, gluten-free, and paleo-friendly. Traditional frozen grasshoppers are made with gobs of ice cream. I could have used dairy-free ice cream to make a quick vegan version. But, because the different varieties and brands of coconut, almond, soy, and cashew ice creams vary so dramatically in flavor around the world and can be very assertive it would have been impossible to get a uniform flavor for you. And, also, where's the innovation and fun in that?
So, what's in a traditional grasshopper drink?
A grasshopper is a mint-flavored, dessert-style cocktail that originated in the French Quarter of New Orleans and was popular in the 1950's as a sweet after-dinner drink. (Not sure they were drinking them on Mad Men, but anyway…)
A regular grasshopper typically contains equal parts green crème de menthe (giving it the signature blue/green color), white crème de cacao, and cream that is shaken with ice. A flying grasshopper is a variation that adds vodka, and a frozen grasshopper uses scoops of peppermint ice cream in place of the cream to create a thick shake consistency.
So, I'm going for the "Flying Frozen Grasshopper" with this recipe!
Instead of using peppermint ice cream, I'm using a blend of cashew milk, raw cashews, banana, fresh mint leaves, dates, vanilla, and ice which creates an incredible creamy texture! You will swear this drink contains a pint of the best dairy-filled peppermint ice cream.
And, instead of using green crème de menthe to get the signature green color (which I think looks like gross dead fake food) I'm using spinach, which brings the grasshopper back to life. And, then I'm using white crème de menthe and white crème de cacao (which are both vegan despite the names), and some vodka. I like Tito's because It's got a good flavor and is gluten-free.
You could use almond milk in this recipe. But, I prefer love cashew milk because it is mild in flavor and so much creamier. If I'm not going to make my own cashew milk, I use a commercial variety that is really pure, contains as many nutrients as possible, has an amazing flavor, and a super creamy texture.
Elmhurst Milked Cashews™ is the best commercial cashew milk I've found. The flavor and texture is sensational. The Elmhurst™ cashew milk is made with 5 simple ingredients and contains no gums, emulsifiers, or carrageenan, and is kosher and gluten-free.
The first time I tried this cashew milk when it first became available I thought, "how are they getting such a rich flavor and creamy texture?" So, I set about investigating, and discovered that this milk is produced in a pretty awesome way.
And the Elmhurst 1925 story is really impressive on a lot of levels.
After meeting plant nutrition food scientist, Dr. Cheryl Mitchell, Henry Schwartz (son of the founder, Max) was so inspired by her work that he made the extraordinary decision to completely shift courses. He closed his family's dairy plant (that had been selling cow's milk for 90 years), and, instead, set about producing a line of plant-based milks. So, in 2017, Elmhurst Dairy became Elmhurst Milked™.
But, Henry wanted his plant milks to be innovative. Dr. Mitchell developed Elmhurst's unique HydroRelease™ technology which uses water to retain the maximum nutrients and flavor from raw nuts and grains. This process allows Elmhurst to create really nutritious, creamy, plant milks with full flavor without using chemicals, thickeners, and fillers. The HydroRelease™ method also allows Elmhurst to retain more nuts or grains per glass of plant milk. So, the Elmhurst milks contain up to four times as many nuts or grains (and nutrients) as other leading brands.
All of the Elmhurst plant milks are made using high quality ingredients from trusted farmers, and are vegan (dairy and lactose free), gluten-free, non-GMO, and kosher. And, the Elmhurst milks do not contain any industrial stabilizers, whiteners, thickeners, emulsifiers, or gums.
I'm using the Elmhurst cashew milk in this recipe. But, Elmhurst has an entire range of amazing plant-based milks with ten varieties including: almond (unsweetened and original), hazelnut (unsweetened and original), walnut, peanut (original and chocolate), oat, and brown rice milks.
My favorites are the cashew milk, unsweetened almond milk, unsweetened hazelnut milk, oat milk, and walnut milk. The walnut milk is mind-blowingly good. It tastes just like fresh homemade walnut milk. It is so good, I can't bring myself to blend it with anything. So, I just drink it over ice and it is divine.
I use the other Elmhurst milks in smoothies and drinks, or over cereal. And, because the milks are so high in protein they foam up really well, so they're barista approved and make phenomenal matcha lattés. I think the cashew, oat, or brown rice milks hold up the best in hot coffee, and I love the almond, cashew, and hazelnut milks in iced coffee.
But, back to this fabulous flying frozen grasshopper which will make you forget about coffee with one sip! Serve this s'blended drink with some shaved chocolate and fresh mint leaves, and just try not to guzzle the entire drink in 5 minutes.
Be warned: This one is hard to stop drinking. You may not want to share it.
The Elmhurst plant milks are available at health food stores and grocery stores and direct from the Elmhurst website. Try them for yourself and see how amazing they are. You will never look back.
Use Coupon Code: THEBLENDERGIRL to GET 20% OFF your whole order. Add your products, view your cart, and enter the code to get the savings.
Let me know which variety is your favorite!
Disclaimer: This is a sponsored post with Elmhurst 1925. But, my opinions are my own.
THE BLENDAHOLIC SHOW TRAILER

THE BLENDAHOLIC SHOW TRAILER: Hi, my name is Tess and I'm a Blendaholic. Every Monday I share super easy recipes you can make in your blender! I'm blending up smoothies, cocktails, soups, appetizers, snacks, main meals, and desserts. There isn't anything I won't try in a blender, and all of the recipes are mind-blowingly delicious. So, dust off your blender, and tune in to The Blendaholic every Monday at 7AM PST to find your perfect blend. Find more easy healthy recipes at The Blender Girlhttps://www.theblendergirl.com/

Posted by The Blendaholic on Monday, January 22, 2018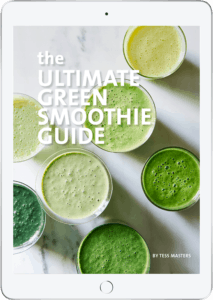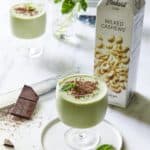 Vegan Frozen Grasshopper Drink
This healthier vegan grasshopper drink using Elmhurst cashew milk is so rich and creamy you'd never know it was dairy-free and didn't contain ice cream!

Ingredients
1

cup

Elmhurst™ cashew milk

1

cup

raw unsalted cashews,

soaked

1

cup

firmly packed baby spinach

1/3

cup

firmly packed fresh mint leaves,

plus more for garnish

1/4

cup

pitted dates

(3 to 4 dates)

3

oz (1/4 cup + 2 tablespoons)

white crème de menthe

3

oz (1/4 cup + 2 tablespoons)

white crème de cacao

1

oz (2 tablespoons)

vodka

1

teaspoon

vanilla extract

2

scant cups

frozen sliced banana

(2 medium)

2

cups

ice cubes

Chocolate shavings,

to garnish
Instructions
Throw the Elmhurst™ cashew milk, cashews, spinach, mint, and dates into your blender, and blast on high for 30 to 60 seconds until smooth and creamy.

Add the crème de menthe, crème de cacao, vodka, vanilla, mint, frozen banana and ice, and blast on high again for about 30 seconds until smooth and chilled.

Garnish with shaved chocolate and fresh mint leaves.