Vegan Strawberry Ice Cream With A Twist
---
June 29, 2017
Make this vegan strawberry ice cream with red bell pepper and cayenne has an incredible flavor that is mind-blowing. Make this in your high-speed blender in less than 10 minutes.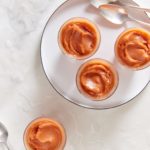 Vegan Strawberry Ice Cream With A Twist
This vegan strawberry ice cream takes less than 10 minutes to make in your high-speed blender. Red bell pepper and cayenne adds a delicious twist.

Instructions
Throw the milk, dates, bell pepper, cayenne, and goji berries (if using) into your KitchenAid® Pro Line® blender, and blast on high for 30 to 60 seconds, until the dates, bell pepper, and goji berries are completely pulverized, and the mixture is smooth.

Scrape down the sides of the blender container. Add the frozen strawberries, secure the lid, remove the center lid cap, and insert the tamper.

Holding the tamper in place with a firm grip, process on variable speed 11 for 20 to 30 seconds, using the tamper to guide the fruit through the blades until smooth, but still frozen.

Scoop out, and serve immediately like a frozen yogurt, or chill in the freezer for 2 hours to firm up for a harder sorbet consistency. Do not freeze for much longer or ice crystals will develop.