Root Vegetable Dal
---
August 24, 2017
This root vegetable dal is a hearty, protein-rich meal that is vegan and gluten-free. Serve with grains or riced cauliflower, bread, and limes.
This root vegetable dal is vegan and gluten-free, and is a delicious, hearty, protein-rich meal. Serve with grains or riced cauliflower, bread, and limes.
This righteous root vegetable dal recipe comes from The First Mess cookbook by my friend Laura Wright. I was honored to provide a blurb for this sensational debut based on Laura's award-winning blog. Laura's no-fuss, simple but stylish approach to healthy food is as bold as it is beautiful. Her magical mess is a joyful celebration of eating well and living well.
With more than 125 nourishing plant-based recipes and stunning photography, Laura's journey through the seasons is a feast for your eyes and tastebuds. The recipes are divided up by type so you can easily find something tasty for any occasion: mornings and breakfasts, soups and stews, salads and dressings, hearty mains and big plates, vegetables and grains, energizing drinks and small bites, and desserts and small treats.
Some of my favorite recipes include: mango ginger kombucha mimosas, breakfast cookies, savory ginger onion crepes, miso and turmeric chickpea scramble, red flannel beet hash, creamy winter vegetable stew, bloody caesar gazpacho, caramelized onion potato salad, shaved root salad with crispy lentils, warm balsamic mushroom salad with pine-nut parmesan, butternut and pesto cream lasagna, tandoori-rubbed portobellos, spice-crusted cauliflower with walnut sauce, miso millet polenta, crispy maple mustard cabbage, matcha chia limeade, turmeric cider, fudgy nut and seed butter brownies, coconut cream tart, and the beet velvet slice with tangy citrus dressing,
All of the recipes have symbols flagging dishes that are gluten-free, nut-free, oil-free, cane sugar-free, or no added sugar to help you quickly choose recipes based on dietary restrictions.
Laura also shares her tips for stocking your kitchen with staple ingredients and go-to kitchen tools.
I really love this book, and this dal is really easy to throw together, and Laura elevates the simple to the sublime with the toasted seed and oil garnish. I served this dal with toasted crusty bread, and it was a huge hit. Let me know what you think.
Get your copy of The First Mess, and learn more about Laura Wright.
THE BLENDAHOLIC SHOW TRAILER

THE BLENDAHOLIC SHOW TRAILER: Hi, my name is Tess and I'm a Blendaholic. Every Monday I share super easy recipes you can make in your blender! I'm blending up smoothies, cocktails, soups, appetizers, snacks, main meals, and desserts. There isn't anything I won't try in a blender, and all of the recipes are mind-blowingly delicious. So, dust off your blender, and tune in to The Blendaholic every Monday at 7AM PST to find your perfect blend. Find more easy healthy recipes at The Blender Girlhttps://www.theblendergirl.com/

Posted by The Blendaholic on Monday, January 22, 2018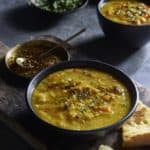 Root Vegetable Dal
This root vegetable dal is vegan and gluten-free, and is a delicious, hearty, protein-rich meal. Serve with grains or riced cauliflower. bread, and limes.

Ingredients
1

cup (250g)

red lentils,

rinsed

1

cup (250g)

finely diced carrot

1

cup (150g)

finely diced yellow onion

1

cup (250g)

cherry tomatoes,

halved

1

tablespoon

minced garlic

(3 cloves)

2-inch

(5cm) piece

fresh ginger root,

peeled and minced

1

teaspoon

ground turmeric

1/8

teaspoon

red pepper flakes

3 1/2 

cups (875ml)

filtered water

Celtic sea salt and freshly ground black pepper,

to taste

2

tablespoons

virgin coconut oil

1/2

teaspoon

cumin seeds

1/2

teaspoon

coriander seeds

1/2

teaspoon

mustard seeds

1/3

cup

chopped fresh cilantro leaves,

to garnish

4

lemon wedges,

to serve
Instructions
To a medium soup pot, add the rinsed lentils, diced carrot, diced onion, tomatoes, garlic, ginger, turmeric, and red pepper flakes. Pour the water into the pot, and give everything a little stir.

Place the pot on the stove over medium heat. Bring to a boil, and then simmer for about 40 minutes, whisking the dal often. Toward the end, the lentils should be completely broken down. In the last 10 minutes of cooking, whisk the dal vigorously to encourage the breaking down of the lentils. It should appear quite soupy. Season the dal generously with salt and pepper. Keep warm.

Heat the coconut oil in a small sauté pan over medium-high heat. Add the cumin seeds, coriander seeds, and mustard seeds. Once the seeds are fragrant and popping, remove from the heat.

Portion out dal into bowls, and garnish with a teaspoon of the toasted spice oil (with the whole spices), and top with chopped cilantro. Serve with lemon wedges.