Mexican Watermelon Cucumber Salad
---
August 21, 2017
This watermelon cucumber salad has incredible flavor, and is a fantastic vegan, gluten-free, and paleo-friendly lunch or dinner in the hot weather.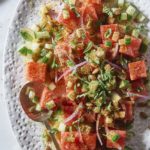 Mexican Watermelon Cucumber Salad
This watermelon cucumber salad from Nom Nom Paleo is vegan, gluten-free, and paleo-friendly. It is bursting with flavor, and makes a show-stopping lunch or dinner for summer.

Ingredients
salad:
1/4

cup

thinly sliced red onions

1

small (5lb)

seedless watermelon,

rind removed and cubed

1

English cucumber,

diced

1/4

cup

extra-virgin olive oil

1

teaspoon

ancho chile powder,

plus more to taste

1/2

teaspoon

Celtic sea salt,

plus more to taste

1/4

teaspoon

cayenne pepper,

plus more to taste

1

teaspoon 

finely grated lime zest,

plus more to taste

1/4

cup

fresh lime juice,

plus more to taste

2

tablespoons

shredded fresh mint leaves
Instructions
To make the smoky lime pepitas, preheat your oven to 325°F (165°C) with the rack placed in the middle position, and line a rimmed baking sheet with parchment paper or a non-stick silicone liner. 

In a medium bowl, combine the pepitas, olive oil, salt, paprika, and cayenne. Add the lime juice and mix well.

Spread the seasoned pepitas in a single layer on the prepared baking sheet.

Toast the seeds for 12 to 15 minutes in the oven, stirring at the halfway point, until fragrant and crunchy. Allow to cool.

To assemble the salad, soak the sliced onion in a bowl of iced water for about 10 minutes to mellow the flavor, drain, and discard soaking liquid. 

In a large bowl, combine the watermelon, cucumber, drained onions, olive oil, chile powder, salt, cayenne pepper, lime zest, and lime juice, and toss to coat evenly. Tweak flavors to taste. 

Garnish with fresh mint leaves and 1/4 cup toasted pepitas. Serve immediately. 
Recipe Notes
Recipe from Ready or Not!: 150+ Make-Ahead, Make-Over, and Make-Now Recipes by Nom Nom Paleo by Michelle Tam and Henry Fong, copyright © 2017. Published by Andrews McMeel.
Photo by Trent Lanz; styling by Alicia Buszczak