This delicious raw cauliflower couscous recipe comes from Everyday Raw Express by Matthew Kenney.
Matthew Kenney is chef, educator, TV host, speaker, and author of a ton of cookbooks including Everyday Raw, Everyday Raw Express, Everyday Raw Desserts, Entertaining in the Raw, 5 Raw Dinners with Matthew Kenney, Raw Food/Real World (with Sarma Melngailis), and Raw Chocolate (with Meredith Baird).
Matthew created this cauliflower couscous with Meredith Baird. By processing raw cauliflower with a few simple ingredients, you get a light, fluffy, couscous consistency which when combined with fresh vegetables, herbs, and spices creates a feast for the senses.
Matthew's food is always amazing. He uses immersion, smoking, emulsification, and dehydration to create imaginative, creative, and innovative food that consistently pushes the envelope in the raw cuisine.
Don't miss making this raw cauliflower couscous. It's delicious.
THE BLENDAHOLIC SHOW TRAILER

THE BLENDAHOLIC SHOW TRAILER: Hi, my name is Tess and I'm a Blendaholic. Every Monday I share super easy recipes you can make in your blender! I'm blending up smoothies, cocktails, soups, appetizers, snacks, main meals, and desserts. There isn't anything I won't try in a blender, and all of the recipes are mind-blowingly delicious. So, dust off your blender, and tune in to The Blendaholic every Monday at 7AM PST to find your perfect blend. Find more easy healthy recipes at The Blender Girlhttps://www.theblendergirl.com/

Posted by The Blendaholic on Monday, January 22, 2018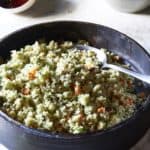 Raw Cauliflower Couscous
This raw cauliflower couscous from Matthew Kenney is grain-free and delicious.
Ingredients
vegetable medley:
1

cup

Fava beans,

peeled

1

cup

corn kernels

1

cup

finely diced carrots 

1

cup

finely diced shiitake mushrooms 

1

cup

finely diced zucchini 

1/2 

cup

finely chopped flat-leaf parsley 

1/4

cup

finely chopped fresh basil 

2 

tablespoons 

extra-virgin olive oil

1

tablespoon

fresh lemon juice,

plus more to taste

Celtic sea salt and pepper,

to taste
Instructions
To make the couscous, process all ingredients in the food processor until very fine. Season to taste.

To make the vegetable medley, toss all the ingredients until well combined.

To make the sauce, blend all ingredients together in your blender until smooth and well emulsified.

To assemble, toss the couscous together with vegetable medley. 

Spoon a few heaping tablespoons of sauce on mixture before serving.

If plating individually, drizzle each serving with more sauce or serve as a side.