This delicious vegan spinach avocado dip is from Wild About Greens by Nava Atlas, celebrated author and illustrator of vegetarian and vegan cookbooks.
This spinach avocado dip with tahini is a more exotic take on traditional guacamole, and is super easy to throw together in your food processor. Nava describes her recipe as "a marriage of guacamole and hummus." This dip is fantastic served with veggie sticks, tortilla chips, and crackers, or slathered on sandwiches and wraps.
There are so many great ideas for adding leafy greens to dishes in this book. Rip Esselstyn has been quoted as saying, "I've had a love affair with green leafy vegetables for over two decades. Wild About Greens will help take this love affair through the stratosphere!"
Nava celebrates the versatility of leafy greens in delicious juices, smoothies, sauces, dips, dressings, soups, salads, pastas, vegetables side dishes and main events. Some of my favorite recipes include: the Green C Monster Juice, Burgandy Berry Bliss Smoothie, Citrus-Braised Escarole with Apple & Nuts, Persian-Spinach with Black-Eyed Peas & Herbs, Stir-Fried Boy Choy & Snow Peas with Shiitake Mushrooms, Collard-Wrapped Yellow Rice & Black Bean Enchiladas, and Asian-Flavored Kale & Napa Cabbage Stew.
She also offers easy hints and tips about selecting and storing greens; preparing greens by rinsing, stemming, chopping, steaming, wilting, stir-frying, blanching, braising, searing, baking, grilling, freezing, and dehydrating.
There's also a basic introduction to the greens used in the book and tons of recipes that utilize them. Greens like arugula, asian greens, beet greens, boy choy, broccoli rabe, chard, collard greens, dandelion greens, escarole, kale, mizuna, mustard greens, radish greens, spinach, tatsoi, turnip greens, and watercress are covered in the book.
Nava also shares handy ideas for "greening up" your carbs, massaging kale, pairing greens with sturdy vegetables, and the benefits of green juices and smoothies. If you want to expand your experience with greens with some innovative ideas this book is a must-have companion.
Do not miss making this spinach avocado dip. It is amazing.
THE BLENDAHOLIC SHOW TRAILER

THE BLENDAHOLIC SHOW TRAILER: Hi, my name is Tess and I'm a Blendaholic. Every Monday I share super easy recipes you can make in your blender! I'm blending up smoothies, cocktails, soups, appetizers, snacks, main meals, and desserts. There isn't anything I won't try in a blender, and all of the recipes are mind-blowingly delicious. So, dust off your blender, and tune in to The Blendaholic every Monday at 7AM PST to find your perfect blend. Find more easy healthy recipes at The Blender Girlhttps://www.theblendergirl.com/

Posted by The Blendaholic on Monday, January 22, 2018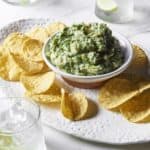 Creamy Spinach Avocado Dip
This creamy spinach avocado dip is super easy and seriously tasty!
Ingredients
3 to 4

ounces

baby spinach

(or arugula)

1

large

avocado,

peeled and diced

1/3

cup

tahini 

2

tablespoons

fresh lemon juice,

plus more to taste

1/2

teaspoon

ground cumin,

plus more to taste

2

tablespoons

finely chopped cilantro

(or flat-leaf parsley)

1/2

teaspoon 

Celtic sea salt,

plus more to taste

1/8

teaspoon

red pepper flakes,

plus more to taste
Instructions
Rinse the greens and place them in a large skillet or saucepan.

With just the water clinging to the leaves, cook the greens until just wilted. Remove from the heat.

Place the wilted greens and remaining ingredients into a food processor fitted with the s blade, and process until well combined. Add 1/4 cup water, as needed, to achieve a medium-thick consistency.

Serve with raw veggies, tortilla chips, or slather on sandwiches or wraps.