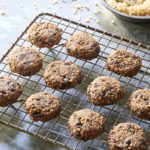 Quinoa Chocolate Chip Cookies
These quinoa chocolate chip cookies from Wendi Polisi are incredible! Moist, chewy, and delicious.
Instructions
Preheat the oven to 350°F (180°C), and line a baking sheet with parchment paper.

In a small bowl, make the chia/flax eggs by combining the flaxmeal, chia seeds, and warm water. Whisk well, and set aside.

In a food processor fitted with the s blade, combine the almonds and quinoa. Process for about 1 minute until you have a fine meal. Add the baking soda and salt, and process until well combined.

In a small saucepan over medium-low heat, melt the almond butter and coconut oil. Add the applesauce and maple syrup, and whisk until heated through. Remove from the heat, and stir in the vanilla and flax/chia eggs.

Transfer this warm mixture to the food processor, and process until a dough has formed. Add the chocolate chips, and process until the chocolate is melted and blended. You may have to stop the machine and scrape down the sides of the container to evenly blend the mixture.)

With a tablespoon measurer, scoop out the dough, and roll into small balls. Flatten the balls with your fingers or a fork, and place on the lined sheet. 

Bake for 12 to 15 minutes. Remove from the oven, and allow the cookies to cool for 5 minutes on the pan, and then transfer them to a wire rack to cool completely.
Recipe Notes
For double chocolate chip cookies:
Allow the batter to cool and stir in 1/2 cup vegan chocolate chips just prior to cooking.
For chocolate macadamia cookies:
Stir in 1/2 cup chopped macadamia nuts just prior to cooking.
For cherry chocolate cookies:
Stir in 1/2 cup dried unsweetened cherries just prior to cooking.
Recipe from Wendy Polisi
Photo by Trent Lanz and styling by Alicia Buszczak