These quinoa chocolate chip cookies are absolutely incredible. These cookies are flourless, gluten-free, and vegan, and just try stopping at one!
When we were photographing these quinoa chocolate chip cookies, the four of us literally ate them all in 10 minutes. We couldn't believe how good they were.
I love quinoa, and nobody knows more about using it in interesting ways than Wendy Polisi.
Her site is a one-stop-shop celebrating "all things quinoa", and she has some really inventive ways to use it, including these incredible quinoa chocolate chip cookies.
Wendy is the also the author of The Quintessential Quinoa Cookbook.  Whether you're a quinoa connoisseur or new to cooking with quinoa, there are over 200 pages of flavorful inspiration.
The recipes are inventive, healthy, easy, and loaded with goodness. Recipes like Quinoa Pancakes, Chipotle Quinoa Burgers, Roasted Red Pepper Quinoa Cannelloni, Quinoa Chocolate Bar Sundae, and Almond Fudge Quinoa Brownies are just a few of the delectable creations Wendy has on offer in this fabulous book. Every recipe is accompanied by multiple pictures, nutritional data, substitution suggestions, and alternative preparation methods.
There are also tons of amazing quinoa recipes on Wendy's site. Some of my favorites include: Quinoa and White Bean Casserole with Caramelized Onions, Quinoa Corn Tortillas, Quinoa Kale Fritters, Quinoa Energy Bars, Quinoa Pudding, and many more. There is also some wonderful information about quinoa.
Whether you're a quinoa lover or not, do not miss making these quinoa chocolate chip cookies. They are soooo amazing.
THE BLENDAHOLIC SHOW TRAILER

THE BLENDAHOLIC SHOW TRAILER: Hi, my name is Tess and I'm a Blendaholic. Every Monday I share super easy recipes you can make in your blender! I'm blending up smoothies, cocktails, soups, appetizers, snacks, main meals, and desserts. There isn't anything I won't try in a blender, and all of the recipes are mind-blowingly delicious. So, dust off your blender, and tune in to The Blendaholic every Monday at 7AM PST to find your perfect blend. Find more easy healthy recipes at The Blender Girlhttps://www.theblendergirl.com/

Posted by The Blendaholic on Monday, January 22, 2018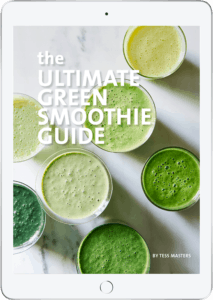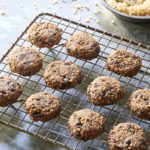 Quinoa Chocolate Chip Cookies
These quinoa chocolate chip cookies from Wendi Polisi are incredible! Moist, chewy, and delicious.
Instructions
Preheat the oven to 350°F (180°C), and line a baking sheet with parchment paper.

In a small bowl, make the chia/flax eggs by combining the flaxmeal, chia seeds, and warm water. Whisk well, and set aside.

In a food processor fitted with the s blade, combine the almonds and quinoa. Process for about 1 minute until you have a fine meal. Add the baking soda and salt, and process until well combined.

In a small saucepan over medium-low heat, melt the almond butter and coconut oil. Add the applesauce and maple syrup, and whisk until heated through. Remove from the heat, and stir in the vanilla and flax/chia eggs.

Transfer this warm mixture to the food processor, and process until a dough has formed. Add the chocolate chips, and process until the chocolate is melted and blended. You may have to stop the machine and scrape down the sides of the container to evenly blend the mixture.)

With a tablespoon measurer, scoop out the dough, and roll into small balls. Flatten the balls with your fingers or a fork, and place on the lined sheet. 

Bake for 12 to 15 minutes. Remove from the oven, and allow the cookies to cool for 5 minutes on the pan, and then transfer them to a wire rack to cool completely.
Recipe Notes
For double chocolate chip cookies:
Allow the batter to cool and stir in 1/2 cup vegan chocolate chips just prior to cooking.
For chocolate macadamia cookies:
Stir in 1/2 cup chopped macadamia nuts just prior to cooking.
For cherry chocolate cookies:
Stir in 1/2 cup dried unsweetened cherries just prior to cooking.
Recipe from Wendy Polisi
Photo by Trent Lanz and styling by Alicia Buszczak