Vegan Cream Of Mushroom Soup
---
November 1, 2017
This vegan cream of mushroom soup takes less than 20 minutes to make in your high-speed blender and has an incredible rich flavor. If you're using a conventional blender, transfer to the stove to warm.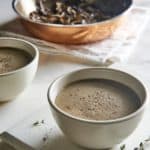 Vegan Cream Of Mushroom Soup
This vegan cream of mushroom soup is super easy and takes less than 20 minutes! Use your high-speed blender to heat the soup or transfer to the stove.

Instructions
In a large skillet over medium heat, warm the olive oil, and sauté the onions, thyme, and garlic for about 5 minutes until the onions are soft and translucent.

Add the mushrooms, tamari, and black pepper, and sauté for 8 to 10 minutes, until the mushrooms are reduced and cooked through.

Transfer the mushroom mixture to the jar of the KitchenAid® Pro Line® Blender, and add the broth. Secure the lid, and set the blender to the Adapti-Blend™ Soup program. Blend until the machine turns itself off. Alternatively, blend for about 5 minutes, starting on speed 1 and gradually increasing to speed 10. (To make the soup in a conventional blender, blast on high until smooth, and then transfer to a saucepan, and heat on medium-low until hot.)

Season with salt to taste, and garnish with finely chopped parsley. Serve with crusty bread or a scoop of cooked grains.