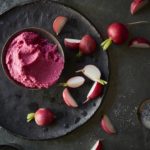 Vegan Beet Hummus
This beet hummus is absolutely incredible. Serve it with vegetables or crackers, or slather on sandwiches and wraps.
Instructions
Place the beets and leeks in a small saucepan, and cover them with water. Cover with the lid, and over high heat, bring to a boil. Simmer, covered for 6 to 8 minutes, until the beets are tender. 

Drain the beets and leeks, and transfer them to a high-speed blender. Add the remaining ingredients, and blast on high until smooth and creamy. (You may have to stop the machine and scrape down the sides of the container.) Tweak lime juice, salt, and pepper to taste. 

Serve with veggies sticks or crackers, or wrap up in a collard green or lettuce leaf with avocado, cucumber, and celery for a quick nutritious snack.