This lemon cashew dressing is a staple in our house.
The weather has been absolutely gorgeous this week, and I've been making a ton of salads and sitting out on the terrace enjoying the last of the sunshine.
I love shredded kale and cabbage slaws, and my go-to creamy dressing is this creamy lemon cashew blend. Tweak lemon juice, garlic, and salt to taste. I like a rich flavor, but you may prefer a lighter dressing. If so, hold back on some of the garlic, and add to taste.
Blend up this lemon cashew dressing for your next salad and you won't be disappointed. It is deelish!
THE BLENDAHOLIC SHOW TRAILER

THE BLENDAHOLIC SHOW TRAILER: Hi, my name is Tess and I'm a Blendaholic. Every Monday I share super easy recipes you can make in your blender! I'm blending up smoothies, cocktails, soups, appetizers, snacks, main meals, and desserts. There isn't anything I won't try in a blender, and all of the recipes are mind-blowingly delicious. So, dust off your blender, and tune in to The Blendaholic every Monday at 7AM PST to find your perfect blend. Find more easy healthy recipes at The Blender Girlhttps://www.theblendergirl.com/

Posted by The Blendaholic on Monday, January 22, 2018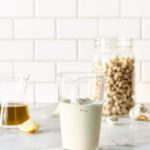 Lemon Cashew Dressing
This raw vegan creamy lemon cashew salad dressing is zesty, delicious, and really and versatile.
Instructions
Throw everything in your blender, and blast on high for 30 to 60 seconds until smooth and creamy. Tweak lemon juice, garlic, and salt to taste.