Well, it is Christmas eve here in Australia! My extended family has just arrived, and my mum, sister, aunties, and cousins are cooking up a storm getting ready for our Fisher Family Christmas Extravaganza. Four days of non-stop of celebration! Those of you who have been following me for a while may remember that I celebrate Christmas every second year with my mother's extended family, and every other year with Scott's family in America.
Scott just arrived yesterday for his first visit to Australia, and I can't wait to show him all the sights and have him meet all of my beloved friends and family. He is sleeping beside me as I type this, catching up on some much needed rest before the festivities begin. He has a lot of names to remember!
Before I left L.A, I whipped up one last batch of pecan pie ice cream for the year, and decided to share it as my last holiday recipe for 2012 because it is to die for. So simple and absolutely delicious! Just blend, chill, churn, and devour.
This simple ice cream has a slightly rustic consistency, but that is what I like about it. The secret to getting the flavors juuuuust right is to stir the maple syrup through the pecans and stir through the ice cream before freezing, and then top with a few more chopped pecans and a drizzle of maple syrup right before serving. Just divine. Sometimes, the simple things in life really are the best.
On that note, I am going to wake my love, and rejoin my family in the living room. Bing is singing "White Christmas" out in the kitchen….my mother's signal that Christmas has officially begun!
I wish you and your families a very happy holiday season. May your time be filled with love, laughter, peace, and lots and lots of delicious food.
Thank you for all of your support this year. It really means so much to me, and makes writing this blog so worthwhile. I will see you all on the other side of the festivities with some green juices!
Let's get "Lean and Green in 2013! xx
THE BEST VEGAN MAC AND CHEESE

This is THE BEST VEGAN MAC AND CHEESE. This is rich and cheesy, you'd never know it was dairy-free. I love adding mushrooms and herbs for full flavor. But, you could leave it plain for kids. GET THE FULL PRINTED RECIPE:https://www.theblendergirl.com/recipe/the-best-vegan-mac-and-cheese/

Posted by The Blendaholic on Thursday, August 30, 2018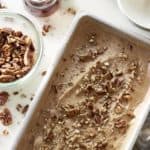 Vegan Maple Pecan Ice Cream
This pecan ice cream tastes like a slice of creamy pie and is delicious all-year round.
Instructions
Throw the 3 cups whole pecans, 3 cups coconut milk, 3 cups almond milk, and dates into your blender, and blast on high for about 1 minute until smooth and creamy. 

Strain the mixture, wash the blender container, and place the strained milk back into the blender. Add the maple syrup, vanilla, cinnamon, and salt, and blend again for 10 to 20 seconds until well combined. 

Chill the mixture in the fridge until cold, and then churn in an ice cream maker according to the manufacturer's instructions. During the last 10 minutes of churning, fold in the chopped pecans. 

Freeze until ready to serve.

Serve topped with crushed pecans and a drizzle of maple syrup.