Vegan Iced Coffee
---
June 12, 2017
This is the most incredible vegan iced coffee using almond milk and dates. This delicious creamy dairy-free paleo iced coffee will blow your mind!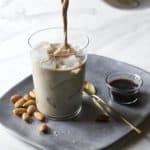 Dairy-Free Iced Coffee
This vegan iced coffee is rich, creamy, super delicious, and so easy to make. You'd never know it's dairy free!
Instructions
To

soak your almonds

, place the nuts in a glass or ceramic bowl or large glass jar, and cover with filtered water. Add 1/4 teaspoon Celtic sea salt and splash of fresh lemon juice or apple cider vinegar, cover the container with a breathable kitchen towel, and allow to soak at room temperature for 12 hours. (For more information on soaking

read here

.)

Drain, and discard the soaking liquid (do not use this to make the milk). Rinse the almonds several times to remove the anti-nutrients and enzyme inhibitors. 

Throw the rinsed almonds, clean filtered water, and dates into your

blender

, and blast on high for 30 to 60 seconds, until the nuts and dates are completely pulverized.

Pour the mixture into a nut milk bag or knee-high piece of sheer nylon hosiery over the opening of a glass bowl, jar or jug, twisting the bag closed, and gently squeezing it to pass the liquid through. Empty the almond pulp aside. You can dehydrate this for use in smoothies or to make crusts. Or make this quick easy body scrub. 

Rinse your blender container, and pour the strained milk back into the container. Add the espresso, vanilla, and salt, and process for a few seconds on high until well combined. Add additional coffee and vanilla to taste. 

Pour over ice cubes, and enjoy. 
Recipe Notes
*Soak almonds for 8 hours. See Instructions. 
**For sugar-free, substitute 1 1/2 tablespoons powdered birch xylitol + 1/4 teaspoon alcohol-free liquid stevia for the dates to make this anti-inflammatory, alkaline, unsweetened, and suitable for diabetics. 
***If you don't want to make your own almond milk, replace the 1 cup of almonds and 3 cups of filtered water with 3 1/2 cups unsweetened almond milk. 
Photo by Trent Lanz; styling by Alicia Buszczak