Cashew Cream Cheese
---
August 11, 2010
This cashew cream cheese is incredible and so easy to make. Use as dip or spread. It's always a winner.
The Best Cashew Cream Cheese
This cashew cream cheese is unbelievably good. It is fantastic served as a cheese, a spread, or a dip.
My dad always tells me that happiness is tied up in expectations. If you keep your expectations in a realistic place, you're less likely to be disappointed. I've found this advice to be true in all aspects of life; and I offer it up today when making this cashew cream cheese.
Don't get me wrong, this spread is absolutely scrumptious. But if you turn on your food processor expecting this to taste exactly like cheese made from cow's milk, you may be a little disappointed. Conversely, if you think of it as a dairy-free healthy cheesy-tasting alternative to conventional cheese you will be thrilled with the results.
People dipping into this vegan cashew cheese usually say the same thing when they come up for air – "Oh yum, this is delicious. But it doesn't taste like cheese". I should call it cashew spread.
For those of you not familiar with raw food, pureed nuts or seeds and water are used to make dairy-free cheese. Raw almonds, macadamias, pine nuts, sunflower seeds, and sesame seeds make awesome vegan cheese. But, cashews yield the best results when making neutral-flavored spreads.
You can add any aromatics or other flavorings to this basic cashew cream cheese recipe.
Just pulse and add to taste. I like to keep this cashew cheese the consistency of hummus or ricotta so it acts like a cream cheese spread that's fantastic with chips, crackers, or veggie sticks, or slathered on bagels, sandwiches, or wraps.
CASHEW CREAM CHEESE

This CASHEW CREAM CHEESE is so incredibly delicious. Just throw everything into your high-speed blender or food processor. Use this on sandwiches, wraps, and in lasagna and other dishes. GET THE FULL PRINTED RECIPE:https://www.theblendergirl.com/recipe/cashew-cream-cheese/

Posted by The Blendaholic on Wednesday, May 23, 2018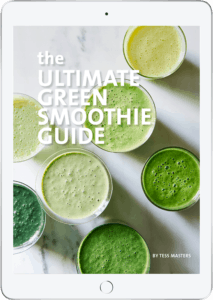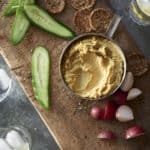 Cashew Cream Cheese
This vegan cashew cream cheese is super tasty and really easy to make. Just throw everything into your food processor.
Ingredients
herbed cheese:
1

tablespoon

finely chopped fresh flat leaf parsley

1

tablespoon

finely chopped fresh basil

1

tablespoon

finely chopped fresh thyme

1

tablespoon

finely chopped green onion
chive cheese:
2

tablespoons

finely chopped chives
chile cheese:
2

tablespoons 

chopped flat-leaf parsley

2

tablespoons

finely chopped green onions

1

teaspoon

finely grated lemon zest

1

small

green chile,

ribbed, seeded, and minced or 1/8 teaspoon red pepper flakes
Instructions
Drain the soaked cashews and rinse thoroughly.

Throw the cashews into the

food processor

with the other ingredients (except the parsley) and pulse until you reach your desired consistency. Add more water as needed. Tweak lemon juice, garlic, salt, and onion powder to taste.

Transfer the cheese to a bowl, and stir through the parsley.