This coconut cream is really easy and is rich and delicious. This coconut cream is raw, vegan, gluten-free, dairy-free, soy-free, nut-free, grain-free, and paleo-friendly.
This basic coconut cream recipe is a fantastic blank canvas for flavorful inspiration. Make chocolate cinnamon coconut cream, banana coconut cream, berry coconut cream, mint carob coconut cream. The potential is endless.
Serve this coconut cream with fruit skewers for a quick dessert or serve on top of your favorite cakes, pies, and other desserts. This coconut cream also makes a fantastic raw pie filling. Or add some extra vanilla and enjoy this coconut cream as a pudding with some shaved coconut.
In other news, I went to see my all-time-favorite musical last night and bawled like a baby. The new restaged version of Les Miserables is touring in celebration of the show's 25th anniversary. I have seen a production of this show on almost every continent, and have, on more than one occasion, been the last nostalgic fan blubbering in the stalls! Polite ushers from theaters far and wide have had to politely ask me to vacate the theatre as I stared longingly into the curtain praying for an encore.
Last night's performance was not the best production I have seen. The show was too big for the theatre and I am not a fan of that modern clipped singing style that this production's musical director seemed to be championing. At one point, I thought Eponine was going to bust out into a Brittany Spears version of The Star Spangled Banner. Maybe I am just too much of a purist.
Having said that, I thoroughly enjoyed myself. "Bad Les Mis is better than no Les Mis."
There were some beautiful moments in this production and I had more than a few lumps in my throat. There is just something about the incredible evocative music that brings people to their feet. I found myself marveling at what a chorus of passionate human voices can do for the soul. I wept for the meadows of France and lost hopes and love just as I have many times before, and despite my issues with this "American Idol Style" remount, I was in heaven.
Theatre is my "cream on the top" in life. Something magical happens with that energetic exchange between performer and audience that cannot be replicated by any other medium. I felt grateful, privileged and humbled to be in the audience last night. Gosh, some people are just so talented.
This gratitude for all things "cream on the top" lead me to reflect on other things that make we weak at the knees and weep with delight. I noticed that a coconut cream recipe was appallingly absent from the site, and so here it is.
Blend up this coconut cream and let me know what you think.
THE BLENDAHOLIC SHOW TRAILER

THE BLENDAHOLIC SHOW TRAILER: Hi, my name is Tess and I'm a Blendaholic. Every Monday I share super easy recipes you can make in your blender! I'm blending up smoothies, cocktails, soups, appetizers, snacks, main meals, and desserts. There isn't anything I won't try in a blender, and all of the recipes are mind-blowingly delicious. So, dust off your blender, and tune in to The Blendaholic every Monday at 7AM PST to find your perfect blend. Find more easy healthy recipes at The Blender Girlhttps://www.theblendergirl.com/

Posted by The Blendaholic on Monday, January 22, 2018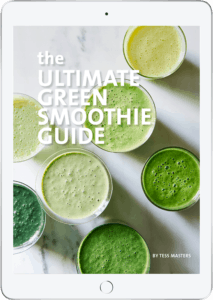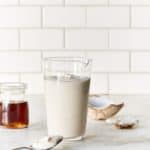 Vegan Coconut Cream
This quick easy coconut cream is rich, thick, and seriously delicious. This recipe is raw, vegan, gluten-free, dairy-free, nut-free, soy-free, grain-free, and paleo-friendly.
Instructions
Throw everything into the blender, and blast on high for 30 to 60 seconds until thick and creamy. Add more coconut milk as needed, and add maple syrup to taste.