In honor of the new year, I'm posting this alkaline spicy avocado carrot tomato smoothie from The Blender Girl Smoothies app and book.
This savory smoothie serves up your daily quota of vegetables and is super tasty.
This veggie-packed smoothie is on heavy rotation in our house because it is a fantastic meal replacement for energy, detox, and inflammation, and hangovers. Yep, that cayenne will wake you up and get you going!
I like this avocado carrot tomato smoothie a bit more salty than I've specified. But the quantities I've specified strike a good balance for most people. You could also add more cayenne pepper. Start with a pinch and add more to taste.
Happy New Year! May 2012 be filled with love, joy, peace, good health, nourishment, and anything else your heart desires.
Find more delicious smoothies in The Blender Girl Smoothies app.
*Probiotic Powder – I add 1/2 teaspoon of probiotic powder to all smoothies to replenish stores of healthy bacteria for immunity, digestion, detox, and to balance the acidic effects of high-sugar fruits and other sweeteners. The really potent probiotics require refrigeration. If you have capsules, break the shell and release the powder. Unsweetened probiotic-rich liquids like kefirs (water, coconut water, milk varieties) or kombucha make wonderful health-promoting additions to shakes, too.
*Celtic Sea Salt – I add a pinch (or more) of this alkalizing, mineral-rich salt to all smoothies to boost the natural flavor of fruits and veggies; temper the acidity of sweet fruits and sweeteners; stimulate the lymphatic system; replenish electrolytes; aid digestion; and help the body access energy. I do not recommend adding common table salt which is generally heated to extreme temperatures, iodized, bleached, processed, and refined. This salt does not have the same benefits. If you have a health condition that requires you to limit your sodium intake consult your doctor before adding salt to your smoothies.
THE BLENDAHOLIC SHOW TRAILER

THE BLENDAHOLIC SHOW TRAILER: Hi, my name is Tess and I'm a Blendaholic. Every Monday I share super easy recipes you can make in your blender! I'm blending up smoothies, cocktails, soups, appetizers, snacks, main meals, and desserts. There isn't anything I won't try in a blender, and all of the recipes are mind-blowingly delicious. So, dust off your blender, and tune in to The Blendaholic every Monday at 7AM PST to find your perfect blend. Find more easy healthy recipes at The Blender Girlhttps://www.theblendergirl.com/

Posted by The Blendaholic on Monday, January 22, 2018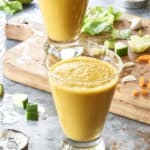 Spicy Avocado Carrot Tomato Smoothie
This savory and spicy vegetable green smoothie from The Blender Girl Smoothies app and book is full of flavor and will get you going in the morning!
Servings
2
16-ounce glasses
Ingredients
3/4

cup (180ml)

raw coconut water

(or or filtered water)

1

cup (50g)

chopped romaine lettuce

1

medium tomato,

chopped

1

medium carrot,

peeled and diced

1/2

English cucumber,

skin on and chopped

1

medium avocado,

pitted and peeled

1

medium lime,

peeled and halved

1

clove

garlic,

peeled

3/4

teaspoon

Celtic sea salt,

plus more to taste

Pinch

of cayenne pepper

1 1/2

cups (190g)

ice cubes
Instructions
Throw everything into your blender (including any boosters) and blast on high for 30 to 60 seconds until smooth and creamy. Add salt to taste.