Sorghum Popcorn
---
June 18, 2017
This sorghum popcorn is a fantastic healthy allergy-free alternative to traditional popcorn for a fantastic movie-night snack.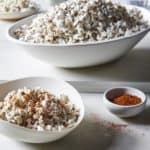 Sorghum Popcorn
Sorghum popcorn is an amazing allergy-free alternative to conventional popcorn for a delicious nutty-flavored snack. Add any flavorings you fancy.

Instructions
In a medium saucepan, heat the olive oil and 2 or 3 sorghum grains over medium heat.

When the grains pop, add the remaining grains and cover. Shake the pan as the grains pop. 

When the popping slows down, remove the pan from heat.

Allow the popped sorghum to cool and toss with smoked paprika and salt to taste.