Sorghum Popcorn
---
June 18, 2017
This sorghum popcorn is a fantastic healthy allergy-free alternative to traditional popcorn for a fantastic movie-night snack.
THE BLENDAHOLIC SHOW TRAILER

THE BLENDAHOLIC SHOW TRAILER: Hi, my name is Tess and I'm a Blendaholic. Every Monday I share super easy recipes you can make in your blender! I'm blending up smoothies, cocktails, soups, appetizers, snacks, main meals, and desserts. There isn't anything I won't try in a blender, and all of the recipes are mind-blowingly delicious. So, dust off your blender, and tune in to The Blendaholic every Monday at 7AM PST to find your perfect blend. Find more easy healthy recipes at The Blender Girlhttps://www.theblendergirl.com/

Posted by The Blendaholic on Monday, January 22, 2018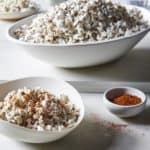 Sorghum Popcorn
Sorghum popcorn is an amazing allergy-free alternative to conventional popcorn for a delicious nutty-flavored snack. Add any flavorings you fancy.

Instructions
In a medium saucepan, heat the olive oil and 2 or 3 sorghum grains over medium heat.

When the grains pop, add the remaining grains and cover. Shake the pan as the grains pop. 

When the popping slows down, remove the pan from heat.

Allow the popped sorghum to cool and toss with smoked paprika and salt to taste.