Sorghum Popcorn
---
June 18, 2017
This sorghum popcorn is a fantastic healthy allergy-free alternative to traditional popcorn for a fantastic movie-night snack.
This sorghum popcorn is incredible, and is a fantastic healthy allergy-alternative to conventional popcorn.
Have you ever tried popping sorghum? It is amazing! Like corn, sorghum grain has moisture locked inside it so it pops when heated in a dry skillet with oil. Sorghum popcorn is much healthier than corn, it's easier to digest, and is loaded with nutrients. Popped sorghum looks like tiny bonsai popcorn. It's so cute.
I'd popped amaranth before, but I'd never popped sorghum until I read Kim Lutz's Ancient Grains cookbook. Kim is a well known food allergy mommy blogger, and author of Super Seeds, and Welcoming Kitchen; and the co-author of The Everything Guide to Cooking for Children with Autism, and The Everything Organic Cooking for Baby and Toddler. She is a also a regular contributor to VegNews and Disney's My Allergy Kingdom.
In Ancient Grains, Kim explores some of the top super grains: farro, spelt, millet, oats, sorghum, and teff. She covers the history of each food, the nutritional properties, and tips for cooking them for amazing textures and flavors.
Some of my favorite recipes include: millet porridge, french toast, peach almond overnight oatmeal, mushroom sorghum soup, millet and poblano chili, brussels sprouts millet slaw, asparagus sorghum sauté, potato millet croquettes, lemon artichoke hummus, chocolate chip scones, beer bread, peach mango muffins, chocolate zucchini cake, strawberry oatmeal ice cream, and maple bourbon bread pudding.
Kim's super power is making unusual ingredients accessible, and creating simple recipes with just a handful of ingredients that can be made in very little time. And if you're not including sorghum in your grain rotation give it a go. There are so many amazing things you can do with it, and it offers incredible bang for your buck.
Sorghum is rich in antioxidants, fiber, manganese, and phosphorus; and is a good source of selenium and Vitamin B3 (niacin). Sorghum is grown in a variety of colors, but the white or light-colored sorghum is the most widely available in grocery stores in the U.S. Unlike most other grains, sorghum doesn't have a tough exterior hull, so the entire grain can be eaten.
The most common way to consume sorghum is in water or broth in much the same way you cook rice or quinoa. It has a mild flavor and chewy texture, and can used as a gluten-free substitute for bulghur in tabouli, or any recipes calling for barley.
Sorghum flour is a popular high protein component of gluten-free flour blends because it has a mild flavor that doesn't over power in baked goods. Sorghum has also become a popular substitute for barley in gluten-free beers.
Try popping sorghum as a fun movie-night snack or after-school treat. It's mild in flavor, and takes on a variety of flavors. I love tossing it in salt and smoked paprika, or nutritional yeast and a splash of Bragg liquid aminos. It is just delicious.
Get your copy of Ancient Grains, and learn more about Kim Lutz.
THE BLENDAHOLIC SHOW TRAILER

THE BLENDAHOLIC SHOW TRAILER: Hi, my name is Tess and I'm a Blendaholic. Every Monday I share super easy recipes you can make in your blender! I'm blending up smoothies, cocktails, soups, appetizers, snacks, main meals, and desserts. There isn't anything I won't try in a blender, and all of the recipes are mind-blowingly delicious. So, dust off your blender, and tune in to The Blendaholic every Monday at 7AM PST to find your perfect blend. Find more easy healthy recipes at The Blender Girlhttps://www.theblendergirl.com/

Posted by The Blendaholic on Monday, January 22, 2018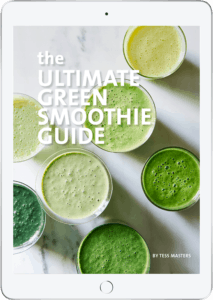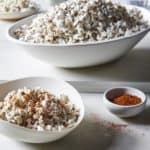 Sorghum Popcorn
Sorghum popcorn is an amazing allergy-free alternative to conventional popcorn for a delicious nutty-flavored snack. Add any flavorings you fancy.

Instructions
In a medium saucepan, heat the olive oil and 2 or 3 sorghum grains over medium heat.

When the grains pop, add the remaining grains and cover. Shake the pan as the grains pop. 

When the popping slows down, remove the pan from heat.

Allow the popped sorghum to cool and toss with smoked paprika and salt to taste.