This roasted tomato basil soup is really incredible. I adapted Scott's mother's recipe, and I'm pretty stoked with the results.
Sandra and I have an ongoing friendly debate about the virtues of chunky soups versus blended soups. I, of course, have a stake firmly planted in the blended soup pot. She, on the other hand, is a fan of chunky "partially blended" soups.
If you're a fan of chunky soups, try the roasted garlic and potato, coconut and red lentil, chickpea and chard, split pea, chamomile corn chowder, chunky vegetable with pistou, raw chowder, and chickpea and rosemary. Those soups are all souper delicious.
Rustic and chunky, this partially blended soup is incredibly flavorful and looks gorgeous. The secret to any great tomato basil soup is using a combination of roasted, canned, and fresh tomatoes. I also like to boost the flavor of this tomato basil soup with sun-dried tomatoes or tomato paste.
I'm not normally a fan of using canned products. But, tomatoes vary so greatly in quality and flavor, so the addition of canned tomatoes ensures uniform results.
A touch of pure maple syrup or organic sugar takes the edge off the acidity and helps round out the flavors of the tomato and bell pepper. If you're making this tomato basil soup for children, omit the red pepper flakes.
Either way, this roasted tomato basil soup is blendsational.
ROASTED TOMATO BASIL SOUP

This ROASTED TOMATO BASIL SOUP is super easy and has a rich beautiful flavor. I am roasting fresh tomatoes. But, because tomatoes vary so greatly in quality and flavor depending on the region I am adding sun-dried and canned to ensure that you can get an incredible uniform flavor. You can rustically blend this with an immersion blender or fully puree it. Either way, this soup freezes really well, and is pure comfort food.GET THE FULL PRINTED RECIPE:https://www.theblendergirl.com/recipe/roasted-tomato-basil-soup/

Posted by The Blendaholic on Thursday, September 6, 2018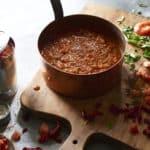 Roasted Tomato Basil Soup
This roasted tomato and basil soup is super easy and delicious.
Cook Time
1
hour
30
minutes
Ingredients
8

medium

Roma tomatoes,

seeded and cut into quarters

1

large

red bell pepper,

cut into chunks

1/4

cup (60ml)

extra-virgin olive oil

2

teaspoons

Celtic sea salt,

plus more to taste

2

cups (300g)

diced yellow onion

1

tablespoon

minced garlic

(3 cloves)

2

teaspoons

finely chopped fresh thyme

1/4

teaspoon

red pepper flakes

4

cups (960ml)

vegetable broth

1

(14.5-oz/411g) can

diced tomatoes (with their juices)

1

cup

firmly packed finely chopped fresh basil,

plus more to serve

1/4

cup (22g)

sun-dried tomatoes

1

teaspoon

pure maple syrup,

plus more to taste  
Instructions
Preheat the oven to 400°F (200°C). Line a large baking sheet with a silicone liner or parchment paper.

In a bowl, toss the chopped fresh tomatoes and bell pepper with 2 tablespoons of the olive oil and 1 teaspoon of the salt. Spread in single layer on a baking sheet and roast for about an hour, tossing a couple of times during cooking so that they cook evenly.

In a large saucepan, heat the remaining 2 tablespoons oil over medium heat and sauté the onions, garlic, thyme, red pepper flakes, and 1/4 teaspoon of salt for about 5 minutes until the onions are soft and translucent.

Add the vegetable broth, canned tomatoes, basil, sun-dried tomatoes, and the remaining 3/4 teaspoon of the salt. Add the roasted tomatoes and bell pepper and their juices, and stir well to combine. Increase the heat to high and bring just to a boil. Reduce the heat to medium and simmer, uncovered for about 20 minutes to allow the flavors to mesh. Remove the saucepan from the heat and allow the soup to cool slightly. Add maple syrup to taste depending on the character of your tomatoes. 

Pour the soup into your blender in batches and pulse on low for just a few seconds until broken up but still chunky. (For conventional blenders, remove the small center lid cap and cover the opening with a kitchen towel so steam can escape while you blend.) Alternatively, keep the soup in the pot and pulse with an immersion blender. Season with salt and pepper to taste.

To serve, ladle the soup into bowls and top with fresh basil.