I'm posting this Body Ecology low sugar almond cranberry smoothie in honor of the release of Donna Gate's new book, "The Baby Boomer Diet" and the companion DVD series, "Growing Younger". Those of you who've been following me for a while would be familiar with how The Body Ecology Diet changed my life.
I had suffered lethargy and candida my whole life, and after trying every whole foods diet known to man, I started on Body Ecology stage one and never looked back. Donna had successfully cherry picked many of the same elements from what she calls "the pillars of holistic health" as I had. It wasn't until I put them together in the way that she had that my health really improved.
I have referred hundreds of readers to this program, and they've all reported remarkable improvements in their health.
Donna is over 70 years old and is thriving. She is a mother, grandmother, business woman and health warrior, and has boundless energy. She is truly an inspiration. In her latest book she shares her top anti-aging remedies and secrets to losing weight and combating cellulite, wrinkles, and grey hair. This book is incredible, and will help you increase your energy and mental clarity by eating superfoods that boost your vitality.
Check out my video testimony to hear more.
This almond cranberry smoothie was on regular rotation when I was on stage 1 of The Body Ecolody Diet. On stage one, lemons, limes, grapefruits, blackcurrants, and cranberries are the only fruits allowed.
In the Winter months, this almond cranberry smoothie was a life saver! I was often craving a sweet treat, and because this mixture is thick and has the consistency of yogurt or cashew cream, I'd eat this almond cranberry smoothie with a spoon like a pudding. This low sugar cranberry smoothie gives you a taste of the holidays without the sugar overload.
Whether you're following Body Ecology or not, give this cranberry smoothie a spin in your blender. It's delicious.
Find more amazing smoothie recipes in The Blender Girl Smoothies app.
*Probiotic Powder – I add 1/2 teaspoon of probiotic powder to all smoothies to replenish stores of healthy bacteria for immunity, digestion, detox, and to balance the acidic effects of high-sugar fruits and other sweeteners. The really potent probiotics require refrigeration. If you have capsules, break the shell and release the powder. Unsweetened probiotic-rich liquids like kefirs (water, coconut water, milk varieties) or kombucha make wonderful health-promoting additions to shakes, too.
*Celtic Sea Salt – I add a pinch (or more) of this alkalizing, mineral-rich salt to all smoothies to boost the natural flavor of fruits and veggies; temper the acidity of sweet fruits and sweeteners; stimulate the lymphatic system; replenish electrolytes; aid digestion; and help the body access energy. I do not recommend adding common table salt which is generally heated to extreme temperatures, iodized, bleached, processed, and refined. This salt does not have the same benefits. If you have a health condition that requires you to limit your sodium intake consult your doctor before adding salt to your smoothies.
THE BLENDAHOLIC SHOW TRAILER

THE BLENDAHOLIC SHOW TRAILER: Hi, my name is Tess and I'm a Blendaholic. Every Monday I share super easy recipes you can make in your blender! I'm blending up smoothies, cocktails, soups, appetizers, snacks, main meals, and desserts. There isn't anything I won't try in a blender, and all of the recipes are mind-blowingly delicious. So, dust off your blender, and tune in to The Blendaholic every Monday at 7AM PST to find your perfect blend. Find more easy healthy recipes at The Blender Girlhttps://www.theblendergirl.com/

Posted by The Blendaholic on Monday, January 22, 2018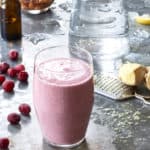 Low Sugar Almond Cranberry Smoothie
Looking for delicious Body Ecology recipes? This low sugar almond cranberry smoothie tastes like a holiday dessert.
Servings
2
16-ounce glasses
Ingredients
2

cups (480ml)

filtered water

1/2

cup (80ml)

raw almonds,

soaked

1/2

medium

avocado,

peeled and pitted

2

tablespoons

fresh lemon juice

2

teaspoons

minced fresh ginger,

plus more to taste

Pinch

of ground cinnamon,

plus more to taste

5

drops

alcohol-free liquid stevia,

plus more to taste

2

cups (280g)

frozen cranberries
Instructions
Throw everything into your blender (including any boosters) and blast on high for 30 to 60 seconds until smooth and creamy. Tweak ginger, cinnamon, and stevia to taste.