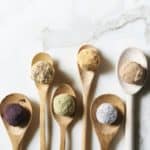 Raw Vegan Chocolate Truffles
Just mix, roll, chill and devour these chocolate superfood balls with endless possibilities of coatings.
Servings
20
small truffles
Ingredients
coating:
Shredded rried coconut

Chopped goji berries

Finely chopped pistachios

(or almonds)

Finely grated lime zest

Maca powder

Mixture of mesquite, maqui, and maca powder

(this is what Matthew and Meredith do in the book)

Raw cacao with cinnamon and chile powder
Instructions
Chop up the cacao butter very finely, and then place in a bowl over a pot of boiling water, and stir until melted. This only takes about a minute. You should have 1/3 cup melted cacao butter.

If making homemade cashew butter, blend the raw cashews with the grapeseed oil in your blender or food processor on a high speed until smooth and creamy. Add a little more oil if needed. (Store in a sealed container in the fridge if not using right away).

Place all your ingredients except the cacao powder into your blender and blend on a low to medium variable speed for about 10 – 15 seconds until smooth.

Add in the cacao powder and blend until just incorporated.

Transfer mixture to the fridge or freezer to firm up for a couple of hours.

Using a small melon baller or ice cream scoop, roll into small individual balls and roll in your favorite toppings.

Chill until ready to serve.

These will keep in the fridge for about a month. But my guess is they will be gone in a day!