This raw vegan carrot ginger soup comes from Joe Cross from Fat, Sick & Nearly Dead.
In the documentary, Joe's personal transformation and journey back to health and vitality.
After a realization at the age of 40, weighing more than 100 pounds and heavily medicated for a chronic autoimmune disease Joe Cross was facing an early death. Taking matters into this own hands, Joe spent 60 days traveling across America consuming nothing but juice. He talked to people across the country about their relationship with food and inspired a juicing revolution.
Joe then started Reboot Your Life, a company dedicated to helping people reclaim their health with juice and whole foods.
There is a blog with healthy living tips; customized juicing and meal plans; community forums; and plant-based recipes like this delicious raw vegan carrot ginger soup. More than a quarter of a million people are members of Reboot's online community where they have access to information, practical tools, and support to get healthy.
Check out their amazing resources, and give this raw vegan carrot ginger soup a go.
THE BLENDAHOLIC SHOW TRAILER

THE BLENDAHOLIC SHOW TRAILER: Hi, my name is Tess and I'm a Blendaholic. Every Monday I share super easy recipes you can make in your blender! I'm blending up smoothies, cocktails, soups, appetizers, snacks, main meals, and desserts. There isn't anything I won't try in a blender, and all of the recipes are mind-blowingly delicious. So, dust off your blender, and tune in to The Blendaholic every Monday at 7AM PST to find your perfect blend. Find more easy healthy recipes at The Blender Girlhttps://www.theblendergirl.com/

Posted by The Blendaholic on Monday, January 22, 2018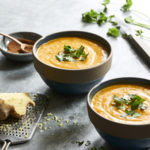 Raw Vegan Carrot Ginger Soup
This raw vegan carrot ginger soup from Joe Cross is simple and delicious.
Instructions
Throw the carrot juice, coconut meat, avocado, maple syrup, ginger, salt, and cayenne pepper in your blender, and blast on high for 30 to 60 seconds until smooth and creamy.

To serve, pour into bowls, and garnish with a drizzle of oil and a sprinkle of cilantro.