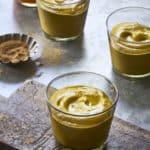 Raw Vegan Carrot Cake Pudding
This raw vegan carrot cake pudding is super easy and tastes like dessert without the need to bake.
Instructions
Throw all of the ingredients into the blender (except the avocados), and blast on high for 30 to 60 seconds until smooth. Add the avocado, and blast again until smooth and creamy. Tweak the pineapple, maple syrup, walnuts, cinnamon, lemon zest, and nutmeg to taste. 

Spoon into 6 individual glasses or bowls, and chill in the fridge for a few hours to thicken. 

Serve with cashew cream and chopped walnuts.