This pineapple ginger green smoothie is my mum's favorite smoothie.
She loves red radishes, and this smoothie utilizes the radish greens.
If you haven't used the leaves of red radishes in smoothies, these leafy legends are the best-kept secret in the smoothie-making world. Not only radish greens contain more protein, calcium, and vitamin C than the roots, but they're surprisingly mild in flavor (they taste a lot like lettuce) and go all-but unnoticed in virtually any blend.
For a typical 32-ounce smoothie use about 1 cup of radish greens, which is the amount of greens on a regular bunch of red radishes. Radish greens are not sold separately, so you need to get the roots as well. The leaves are usually covered in soil, so wash them thoroughly to avoid a gritty mouthfeel or a glass full of dirt.
Rich in vitamins A, C, and K, protein, calcium, iron, magnesium, radish greens are wonderful blood purifiers and boost bone, kidney, and heart health, and keep our skin, hair, and nails looking gorgeous.
Coupled with the anti-inflammatory power of the pineapple and ginger, this sweet smoothie packs a ton of medicinal mojo as well as awesome flavor. Enjoy.
Find more delicious smoothie recipes in The Blender Girl Smoothies app.
*Probiotic Powder – I add 1/2 teaspoon of probiotic powder to all smoothies to replenish stores of healthy bacteria for immunity, digestion, detox, and to balance the acidic effects of high-sugar fruits and other sweeteners. The really potent probiotics require refrigeration. If you have capsules, break the shell and release the powder. Unsweetened probiotic-rich liquids like kefirs (water, coconut water, milk varieties) or kombucha make wonderful health-promoting additions to shakes, too.
*Celtic Sea Salt – I add a pinch (or more) of this alkalizing, mineral-rich salt to all smoothies to boost the natural flavor of fruits and veggies; temper the acidity of sweet fruits and sweeteners; stimulate the lymphatic system; replenish electrolytes; aid digestion; and help the body access energy. I do not recommend adding common table salt which is generally heated to extreme temperatures, iodized, bleached, processed, and refined. This salt does not have the same benefits. If you have a health condition that requires you to limit your sodium intake consult your doctor before adding salt to your smoothies.
THE BLENDAHOLIC SHOW TRAILER

THE BLENDAHOLIC SHOW TRAILER: Hi, my name is Tess and I'm a Blendaholic. Every Monday I share super easy recipes you can make in your blender! I'm blending up smoothies, cocktails, soups, appetizers, snacks, main meals, and desserts. There isn't anything I won't try in a blender, and all of the recipes are mind-blowingly delicious. So, dust off your blender, and tune in to The Blendaholic every Monday at 7AM PST to find your perfect blend. Find more easy healthy recipes at The Blender Girlhttps://www.theblendergirl.com/

Posted by The Blendaholic on Monday, January 22, 2018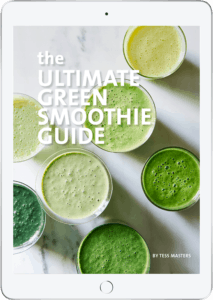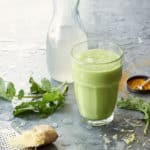 Pineapple Ginger Green Smoothie
This vegan pineapple ginger green smoothie is light, refreshing, and loaded with nutrients.
Servings
2
16-ounce glasses
Ingredients
2

cups (480ml)

raw coconut water

(or filtered water)

2

tablespoons

fresh lemon juice,

plus more to taste

1

cup (37g)

lightly packed radish greens

(or baby bok choy or spinach)

1/2

medium

avocado,

peeled and pitted

2

teaspoons

minced fresh ginger

2

cups (320g)

frozen pineapple
Instructions
Throw everything into your blender (including any boosters) and blast on high for 30 to 60 seconds until smooth and creamy. Tweak lemon juice to taste.