These incredible raw lemon macaroons come from Natasha Kyssa of Simply Raw.
Natasha has been living a raw lifestyle for over 20 years. She is regularly featured in the media for her dedicated work as a lifestyle coach facilitating cleanse programs, and teaching workshops helping people improve their health.
After enjoying an international modeling career, Natasha returned suffering from clinical depression, anorexia, and bulimia. Although she had been raised with a whole foods diet, it wasn't until she adopted a raw lifestyle that her life changed.
Since then, Natasha has studied at the Ann Wigmore Institute, the Hippocrates Health Institute, Optimum Health Institute, The Gerson Institute, Living Light Culinary Arts Institute, as well as other well-known organizations around the world. Natasha also studied darkfield live cell microscopy and has counseled many clients on the Arise & Shine Clean Me Out Colon Cleanse, and other cleansing/detoxification programs after studying with Dr. Richard Anderson.
Check out Natasha's Simply Raw Detox Program, Lighten Up Cleanse, and Juice Fasting Cleanse. Natasha's book, The SimplyRaw Living Foods Detox Manual outlines Natasha's 28-day raw detox program. The book includes 135 delicious raw recipes, and fantastic information about how to rid your body and home of environmental, chemical, and dietary toxins.
Natasha also has some amazing recipes. These lemon pie macaroons are hard to quit eating. Dehydrate to your preferred consistency. I like them soft and crumbly. Keep them in the machine longer for a harder texture.
Learn more about Natasha at Simply Raw and make these raw lemon macaroons.
THE BLENDAHOLIC SHOW TRAILER

THE BLENDAHOLIC SHOW TRAILER: Hi, my name is Tess and I'm a Blendaholic. Every Monday I share super easy recipes you can make in your blender! I'm blending up smoothies, cocktails, soups, appetizers, snacks, main meals, and desserts. There isn't anything I won't try in a blender, and all of the recipes are mind-blowingly delicious. So, dust off your blender, and tune in to The Blendaholic every Monday at 7AM PST to find your perfect blend. Find more easy healthy recipes at The Blender Girlhttps://www.theblendergirl.com/

Posted by The Blendaholic on Monday, January 22, 2018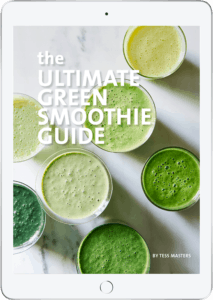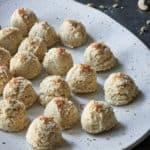 Raw Lemon Macaroons
These raw lemon macaroons are easy to make, use very few ingredients and taste amazing.
Instructions
Throw the cashews into a food processor fitted with the s blade, and pulse until ground into a fine flour. 

Add the shredded coconut, 3 tablespoon of lemon zest, and salt, and pulse a few times until well combined. Add the lemon juices, maple syrup, coconut oil, and vanilla, and pulse until well combined. 

Transfer the mixture to a large bowl, and using a tablespoon measurer, scoop out balls, and with your hands shape them into mounds. 

Place the macaroons on mesh dehydrator sheets, and sprinkle the remaining 2 tablespoons lemon zest on top.

Dehydrate (without non-stick sheets) in your dehydrator at 115 degrees for 8 to 12 hours, or until texture is achieved.