I cannot stop eating these dehydrated apricot coconut oatmeal cookies. These raw vegan oatmeal cookies are gluten-free and allergy-friendly.
The raw vegan lemon cranberry raisin oatmeal cookies were so popular that I wanted to share this apricot coconut variation of the raw vegan oatmeal cookies.
Mum and I made these apricot coconut oatmeal cookies for the Christmas table last year and they were a big hit!
I like making small bite-sized cookies because they dehydrate faster and look prettier. But you can also make larger, more traditional sized cookies with this recipe too. These raw cookies taste pretty close to conventionally baked oatmeal cookies, but you are getting the benefit of all of the enzymes and goodness.
Just tweak the flavors to taste, you might want to add in a little more sweetener or lemon zest. But these quantities struck a nice balance for me. You can't go wrong with apricot and coconut!
*For those of you without dehydrators, you can make these dehydrated oatmeal cookies in a conventional oven by preheating your oven to 300°F (150°C), placing the cookies inside, closing the oven door, turning the oven off and allowing it to cool with the cookies inside. The cookies should have a nice chewy texture. You can repeat this process for a harder oatmeal cookie.
THE BLENDAHOLIC SHOW TRAILER

THE BLENDAHOLIC SHOW TRAILER: Hi, my name is Tess and I'm a Blendaholic. Every Monday I share super easy recipes you can make in your blender! I'm blending up smoothies, cocktails, soups, appetizers, snacks, main meals, and desserts. There isn't anything I won't try in a blender, and all of the recipes are mind-blowingly delicious. So, dust off your blender, and tune in to The Blendaholic every Monday at 7AM PST to find your perfect blend. Find more easy healthy recipes at The Blender Girlhttps://www.theblendergirl.com/

Posted by The Blendaholic on Monday, January 22, 2018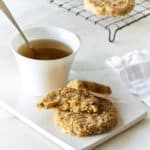 Dehydrated Apricot Coconut Oatmeal Cookies
These no bake raw gluten free vegan oatmeal cookies are quick, easy, and delicious!
Instructions
Place all of the ingredients in your food processor fitted with the s blade, and pulse until well combined but still rustic.

Transfer this mixture to a bowl, and combine with your hands until a thick clustered "dough" forms that hold together into balls. 

Using a 1/3 cup measuring cup. measure a level cup firmly packed of the dough and form into a round ball. Flatten the cookie to about 1/2-inch thickness. 

Place on mesh dehydrator sheets and dehydrate cookies at 115 degrees fahrenheit for 12 to 15 hours, or until dry but chewy.

​*If you don't have a dehydrator, pre-heat your oven to 300°F (150°C), placing the cookies in, closing the oven door, turning the oven off, and allow the cookies to bake in the oven until it's completely cooled.