Raw Key Lime Pie
---
July 6, 2014
This raw key lime pie is vegan, gluten-free, and paleo-friendly, and is creamy, tangy, and delicious. This stunning dessert is always a hit.
This raw key lime pie is absolutely delicious and super easy to make. Avocado, coconut oil, and lime juice blend together to make a rich creamy filling, and cashews, coconut, and dates make the crust. Serve this dessert at any party and it will impress your guests.
I got the recipe for this raw key lime pie out of the Choosing Raw cookbook by Gena Hamshaw.
What I love about this book the most is that it is not an extreme approach to raw foods. Like me, Gena is not strictly raw, but incorporates a high level of live and enzyme-rich foods into her lifestyle. She prefers to call herself a "food foods enthusiast" and this is such a perfect way to open her book as it sets up the accessible nature of her approach.
In the first part of the book Gena covers the myriad of reasons to include more raw and vegan foods into your lifestyle and demystifies common misconceptions about vegan living. As a certified clinical nutritionist she answers the most common concerns about plant based diets: protein, iron, calcium, fat, B12 etc. She then delves deeper covering juicing, blending, soaking sprouting, exercise, detoxes, supplements, alkalinity, food combining, and more.
The Set Up Chapter is particularly useful for any plant based newbies with quick easy explanations for all of the most commonly used pantry staples and equipment with which to set up your kitchen for success. This section is comprehensive and so helpful.
Then there's the 21 day meal plans and recipes. Gena's recipes are simple and delicious. I love the essentials chapter which covers a basic green smoothies, homemade milks, cashew cheese, nut and seed pate, soup, crackers, basic salads, 5 minute guacamole, chia pudding, snack bars, instant ice cream, and more.
The juice recipes rock, as do the dips, dressings, sauces, and spreads. I love the lemon turmeric vinaigrette and almond butter and sun-dried tomato dressing. The 5-Meal-Size Salads section is handy. I love the dinosaur kale and white bean salad. I also really enjoyed the hemp seed tabouli with yellow tomatoes and mint. There are some super easy soups on offer too. My favorite was the carrot, avocado, and turmeric soup.
Other recipes are broken up into breakfast, lunch, and dinner. Try the easy berry breakfast pizza in the morning, asparagus quinoa rolls for lunch, and raw carrot falafel for dinner. That's what I did this weekend! This next week Scott and I are going to try the raw pad thai and jicama fiesta rice that look so delectable.
And yes, there are desserts. The carrot cake cupcakes with cream cheese frosting and no-bake tartlets with chocolate ganache filling are reason enough to get the book. Then there's the cherry vanilla tahini ice cream, simple vanilla macaroons, and this amazing raw key lime pie I am sharing today.
This raw key lime pie will satisfy even the most raw-phobic eater.
Gena's recipes are easy, full of flavor, and simple. Most of them contain just a handful of ingredients making including more raw and vegan foods into your life a breeze.
If you're looking to make a transition to a high raw and vegan lifestyle, or are just looking for easy, healthy recipes, this book has got your back.
THE BLENDAHOLIC SHOW TRAILER

THE BLENDAHOLIC SHOW TRAILER: Hi, my name is Tess and I'm a Blendaholic. Every Monday I share super easy recipes you can make in your blender! I'm blending up smoothies, cocktails, soups, appetizers, snacks, main meals, and desserts. There isn't anything I won't try in a blender, and all of the recipes are mind-blowingly delicious. So, dust off your blender, and tune in to The Blendaholic every Monday at 7AM PST to find your perfect blend. Find more easy healthy recipes at The Blender Girlhttps://www.theblendergirl.com/

Posted by The Blendaholic on Monday, January 22, 2018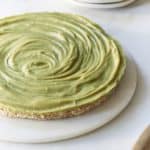 Raw Key Lime Pie
This raw key lime pie is vegan, gluten-free, and paleo-friendly, and is creamy, tangy, and delicious. This stunning dessert is always a hit.

Prep Time
1
hour
10
minutes
Total Time
1
hour
10
minutes
Instructions
To make the crust, add the cashews, coconut, pitted dates, and sea salt to your food processor, fitted with the s blade. Process until the ingredients are mixed and broken down well, and they stick together when you collect a small handful and squeeze.

Press the crust ingredients evenly into the bottom of on oiled, 9-inch springform pan.

To make the filling, throw the filling ingredients into you blender, and blast on high for 30 to 60 seconds until smooth and creamy.

Pour the filling over the crust and use a spatula or inverted knife to shape the top.

Chill the pie in the freezer for an hour, then transfer it to the fridge and let it set for another 3 hours, or overnight. Cut into slices and serve.

Cover and store the pie in the fridge for up to 3 days, or in the freezer for up to 10. If you freeze the pie, defrost the slices in the fridge for several hours before serving.