Grilled Fruit Salad
---
June 9, 2014
This grilled fruit salad is spicy and sweet, and is vegan, gluten-free, and paleo-friendly. This is a beautiful colorful dish for a BBQ or potluck.
This grilled fruit salad is spicy, sweet, and savory, and is vegan, gluten-free, and paleo-friendly. This is a beautiful colorful dish for a BBQ or potluck, and is different than the usual salads on offer.
I found this grilled fruit salad in the The Great Pepper Cookbook from the chefs at Melissa's Produce.
Pepper lovers: this book is for you! There are 150 delicious recipes that show you how to incorporate 37 different kinds of peppers.
Those of you who are not familiar with Melissa's Produce, get acquainted! Melissa's is a family-owned American company founded by Joe and Sharon Hernandez (with the company named after their daughter Melissa). They are the largest distributor of specialty produce (conventional and organic) in the U.S.
Widely recognized in the culinary, corporate, and entertainment world as the most extraordinary source for the best produce in the country, they supply to many of the major grocery stores, restaurants, catering services, and TV Shows, and they are my go-to source for the best quality fruits and vegetables. Every time I order produce I am totally overwhelmed by the quality, and if they don't have the very best, they won't ship it to you.
I am incredibly particular about the companies I work with. The brand needs to produce the best products (so I am using and sharing only the highest quality items with you) that are produced with integrity, act ethically, and the people that work there need to be nice. This company prides themselves on providing quality products with exceptional value and first-class service. And they succeed in spectacular fashion.
"Produce Guru" Robert Schueller has been working at Melissa's for 20 years, and knows more about every kind of fruit and vegetable on the planet than anybody I have ever met. He is the produce expert to many of the top magazines, and just couldn't be a nicer and more generous person. In fact, I have to say this about the entire team at Melissa's. Executive chef Ida Rodriguez, test kitchen director Tom Fraker, Raquel Perez, my pal Nancy Eisman, and Nick Quintero are so amazing and generous of spirit, and have put together an incredible resource about peppers that is filled with fabulous ideas to inspire the home cook to think outside their comfort zone beyond bell peppers and jalapenos.
There is something for everybody in this book. There are appetizers, snacks, and drinks; breakfast and brunch options; soups and salads; sandwiches, main dishes, vegetable sides, and desserts. There are meat dishes in this book, But there are plenty of vegetarian options, some vegan ideas, and more recipes that can be veganized. Some of my favorite recipes include: lemongrass-ginger cooler, chile-berry agua fresca, heirloom tomato and piquillo pepper soup, tomato, cucumber, and grilled corn salad, stone fruit and spring mix salad, asparagus, artichoke, and chilaca sauce, sweet-spicy rosemary veggie kabobs, and this grilled salsa salad. I love this particular recipe because it is super easy and such a great vegan option for a summer bbq.
But, this book is more than just recipes. This is really a pepper encyclopedia. As the largest global distributor of fresh and dried peppers nobody knows more about this stuff than they do! They share their knowledge about more than 30 different varieties of peppers from the mild sweet bell peppers we all use, to blistering bhut jolokia chile peppers, and for the bold cooks, the scorpion chile that will literally blow your head off.
The book opens with the Scoville Scale that measures the heat of a chile, and continues with an explanation of each variety – including seasonality, availability, personality, and substitutions so you know what to expect from each chile and can adjust the recipes to suit your heat preferences. There is also a guide for roasting and charring peppers and toasting dried peppers to make the recipe preparation super easy. There are also handy hints and tips accompanying each dish.
Each recipe also has a heat guide like you see at Thai restaurants….but way more entertaining. 1 chile indicates a mild flavor with just a touch of heat to warm your insides. 2 chiles signifies a zippy experience that they say is "just sassy enough to make you peel off a few layers of clothing". 3 chiles is what they call "Kickin" and has a hilarious explanation – "Don't call the fire department, but have a tall glass of water on hand just in case!"
The crew at Melissa's have a great sense of humor. Check out the funny teaser video they shot to promote the book. Watch the entire seven minutes because it's got a great finish! I was fortunate to attend the launch party for the book with my mum and dad and Scott's friend Richard, and we had a blast sampling food from the book and learning all about the wonderful world of peppers. Robert opened the celebration with a "pepper 101" where I learnt more about peppers than I thought was possible. They also had a fun booth with quirky props. My mum and dad were great sports and I posted our photo on Instagram.
This is such a fun book to expand your pepper-cooking repertoire, and a wonderful gift for any pepper lovers out there.
Grab your copy, and pepper your recipes with some heat!
THE BLENDAHOLIC SHOW TRAILER

THE BLENDAHOLIC SHOW TRAILER: Hi, my name is Tess and I'm a Blendaholic. Every Monday I share super easy recipes you can make in your blender! I'm blending up smoothies, cocktails, soups, appetizers, snacks, main meals, and desserts. There isn't anything I won't try in a blender, and all of the recipes are mind-blowingly delicious. So, dust off your blender, and tune in to The Blendaholic every Monday at 7AM PST to find your perfect blend. Find more easy healthy recipes at The Blender Girlhttps://www.theblendergirl.com/

Posted by The Blendaholic on Monday, January 22, 2018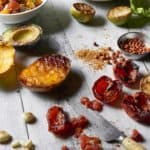 Grilled Fruit Salad
This grilled fruit salad is spicy, sweet, and savory, and is vegan, gluten-free, and paleo-friendly. This is a beautiful colorful dish for a BBQ or potluck.

Ingredients
6

large Roma tomatoes,

halved lengthwise and seeded

3

limes,

halved

3

garlic cloves,

peeled

2

large avocados,

halved lengthwise and pitted

1

large mango,

halved lengthwise and seeded (do not peel)

1

sweet onion,

thickly sliced

1/4

cup

chopped fresh cilantro

15

dried tepin (bird's eye chile peppers),

ground 

1

head

butter lettuce
Instructions
Preheat grill to medium heat. Brush tomato and next 5 ingredients (through onion) with oil. Place fruits and vegetables on grill rack; grill, rotating halfway through grilling to achieve even grill marks, about 3 to 5 minutes. Set limes aside. 

Peel and finely dice remaining grilled fruits and vegetables. In a bowl, combine fruits and vegetables, cilantro, and chile; toss together. Squeeze in lime juice; sprinkle with salt to taste. Serve with butter lettuce leaves.