Fire Roasted Salsa
---
September 3, 2016
This fire roasted salsa recipe is super easy, vegan and gluten-free, and delicious. Serve with guacamole and chips or quesadillas for amazing family dinner.
This fire roasted salsa recipe takes less than 10 minutes to throw together, is vegan, gluten-free, paleo-friendly, allergy free, and really delicious. Serve this with guacamole and chips, quesadillas, burritos, and fajitas for a delicious snack or dinner.
I got this awesome fire roasted salsa recipe from the Make It Easy cookbook by Stacie Billis.
For those of us in the United States, it's back-to-school season where school is already in session again or is just about to start. For busy moms who are planning meals, or for anybody struggling to put good healthy food on the table in a short amount of time this cookbook has 120 super easy recipes for kids and families.
Stacie is the Managing Editor of Cool Mom Eats and is a busy working mom of two active boys, and lives a fast-paced life in Brooklyn. So, Stacie knows a thing or two about multi-tasking and getting things done in an easy and efficient way.
I first met Stacie in California at the Earthbound Farm headquarters a couple of years ago, and we've been friends ever since. I recently had lunch with her when she visited L.A, and what I love about this woman is her easygoing, flexible approach to her life and work. This relaxed and inviting approachable is at the core of her cookbook.
What I love about this book is that there are no rules. You don't have to just be a scratch cook and make all homemade foods, and you don't have to label yourself a convenience cook. You can be both, and there's no shame in using quality store-bought ingredients to make life easier to get healthy meals on the table for your family.
In the book, Stacie helps you navigate the grocery store minefield with her handy shopping guide; figure out what's best fresh and when convenience products make sense; manage your time to meal plan effectively; stock your pantry and fridge for quick success; mix and match recipes that use the same ingredients to make shopping easier and save waste; and let go of any guilt, self-imposed rules, or pressures that make you want to bolt from your own kitchen!
Stacie's quick easy recipes strike a nice balance between simple and sophisticated, and there are options for omnivores, vegans, and picky eaters. Some of my favorites include: quick berry jam, sunflower seed butter, red enchilada sauce, quick pickled red onions, sweet and salty granola, hearts of palm dip, pineapple "orange julius", curried cauliflower and red lentil soup, avocado miso dressing, shaved asparagus and fennel salad, mushroom and lentil bolognese, and gingered peach crisp.
The coolest thing about this book is that each recipe lists other recipes in the book that utilize similar ingredients or have complementary flavor profiles so you can menu plan as you browse. This is such a useful book for busy families.
I love homemade salsa and pico de gallo, and I typically cut up my own fresh tomatoes. But, there's no denying roasted tomatoes deliver the most fabulous flavor. This fire-roasted tomato salsa combining canned and fresh ingredients is a glowing example of how Stacie brings together scratch and convenience elements to inspire flavor fever.
When tomatoes are sweet and juicy, fresh salsa is sensational. But when your tomatoes aren't so fab, canned fire-roasted tomatoes bring a depth of flavor that's hard to beat. Stacie adds in quick pan-roasted garlic and jalapeño, fresh cilantro, onion, lime juice, and salt for a sensational salsa that you can enjoy in 10 minutes. This salsa is awesome served with tortilla chips and guacamole.
Make it Easy with this book, and learn more about Stacie Billis.
THE BLENDAHOLIC SHOW TRAILER

THE BLENDAHOLIC SHOW TRAILER: Hi, my name is Tess and I'm a Blendaholic. Every Monday I share super easy recipes you can make in your blender! I'm blending up smoothies, cocktails, soups, appetizers, snacks, main meals, and desserts. There isn't anything I won't try in a blender, and all of the recipes are mind-blowingly delicious. So, dust off your blender, and tune in to The Blendaholic every Monday at 7AM PST to find your perfect blend. Find more easy healthy recipes at The Blender Girlhttps://www.theblendergirl.com/

Posted by The Blendaholic on Monday, January 22, 2018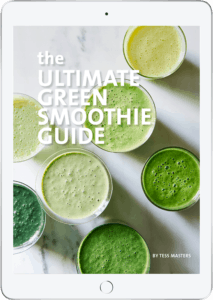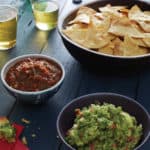 Fire Roasted Salsa
This fire roasted salsa recipe is super easy, vegan and gluten-free, and delicious. Serve with guacamole and chips or quesadillas for amazing family dinner.

Ingredients
2

cloves

garlic,

whole and unpeeled

1

jalapeño pepper,

halved and seeded 

1

(15-oz) can

diced fire-roasted tomatoes

1/2

cup

diced red onion 

1/4

cup 

roughly chopped fresh cilantro,

plus more to taste

2

tablespoons

fresh lime juice,

plus more to taste 

1/2

teaspoon

Celtic sea salt,

plus more to taste
Instructions
Place the unpeeled garlic cloves and jalapeño halves in a small, dry pan set over high heat, and roast for about 10 minutes, turning the garlic one or two times and flipping the pepper halfway through the cooking time. Remove from the heat and allow to cool before peeling the garlic and mincing both the garlic and jalapeño.

Place the minced garlic and pepper with the remaining ingredients into a food processor fitted with the s blade, and pulse until the mixture reaches your desired salsa consistency. This can be served smooth or chunky. Tweak cilantro, lime juice, and salt to taste. 

Serve immediately, or store in a sealed container in the fridge for 5 to 7 days.