This almond body scrub made with the leftover pulp from making almond milk is amazing! It is full of healthy oils from the almonds that are amazing for your skin.
I don't put anything on my skin that I wouldn't put in my mouth. I am a huge supporter of natural food grade skin care, but an even bigger fan of making my own homemade skin care with food grade products in my kitchen. This way, I know the exact source of the ingredients, how fresh they are, and in what ratios and quantities they have been mixed together. I can also muscle-test the ingredients and test them against my skin as I make up my potions to know if they are a good fit for my skin from week to week, and season to season. I also like to be in complete control of the essential oils I add to homemade lotions and potions in order to get my blend just right depending on my mood.
Homemade skin care products are super easy to make and so much fun! Those of you who have tried the moisturizer and were inspired to host your own homemade skin care making parties (I loved getting your emails) know how easy and economical it is to blend up your own skincare recipes with friends and family. Homemade skin care products save you money, are better for the environment, healthier for your body, and make fantastic gifts!
After being overwhelmed with email requests for more skin care recipes over the last couple of months, I realized that the skin care section of the site was embarrassingly sparse. I apologize for not sharing some of these quick easy natural skin care recipes sooner. To be honest, I make so many little concoctions every week that I just take them for granted.
This scrub literally takes seconds to make, and is gloriously decadent and effective. I almost skipped over this little gem because I make it so often! This almond scrub was born out of my obsession with waste, or more specifically, the desire to reduce waste. I make almond milk every few days; and after soaking, blending and straining the almonds, I am always left with a huge amount of delicious almond pulp that is just too good to waste. There are a ton of fantastic uses for almond pulp such as dehydrated cookies and crusts (I will share some of those recipes in the coming months) but my favorite use for almond pulp is this insanely easy body scrub which is fantastic for removing dead skin cells and gently adding moisture to your skin.
I like to use this almond body scrub in the bath and then just soak in the water and oil to give my skin a good almond infusion. My skin feels like silk when I hop out of the tub. I like to use lavender oil as it is so relaxing. But you can add any essential oils that tickle your fancy. Just remember that pure essential oils are extremely powerful, and a little goes a long way!
This almond body scrub is a winner. And, it's the quickest, easiest way to use your almond milk pulp.
This homemade body scrub only keeps fresh in the fridge for a couple of days, so enjoy it immediately.
ALMOND PULP BODY SCRUB

Make ALMOND PULP BODY SCRUB to make your skin glow. The healthy fats and oils in almonds are fantastic for your skin. For those of you messaging me asking about what to do with the almond pulp after making homemade almond milk, this is for you! You can add any oil or essential oils you like. I stand in the shower and rub it on my skin. If you live in an old house with old pipes, put a strainer over the drain and collect the pulp so it doesn't clog your pipes. GET THE FULL PRINTED RECIPE:https://www.theblendergirl.com/recipe/homemade-almond-pulp-body-scrub/

Posted by The Blendaholic on Monday, August 27, 2018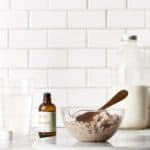 Almond Pulp Body Scrub
This homemade almond body scrub contains wonderful oils that are great for your skin, and it is the easiest way to use the almond pulp from making almond milk.
Ingredients
1

cup

raw almond pulp

(after straining homemade almond milk)

2

tablespoons 

sweet almond oil 

(or melted virgin coconut oil)

5 to 10

drops

lavender essential oil 

(or other essential oil, optional)
Instructions
In a small bowl, stir the sweet almond oil into the almond pulp to you desired consistency. Stir in your essential oil. 

Slather on your body in the shower or bath and get the almond glow! This mixture will keep for a couple of days in a glass jar in the fridge.