This apple, ginger, beet, cabbage juice is delicious.
If you think cabbage juice can't taste amazing, this cabbage juice recipe from Robyn Law may change you mind! Robyn mixes red and green cabbage with sweet beets, carrots, celery, apple, lemon, and ginger to create a yummy juice that will make your crazy for cabbage.
Cabbage is absolutely loaded with goodness. I eat red, white, and savoy/Chinese cabbage regularly to reap the multitude of health benefits. Cabbage contains powerful antioxidant and anti-inflammatory properties. It's wonderful for heart health, helping to reduce cholesterol by binding bile acids in the intestine. Toxins pass them out of our bodies in a bowel movement rather than emulsifying in our liver. The lactic acid in cabbage also acts as a potent colon cleanser.
Cabbage also contains fabulous phytonutrients that help protect the body from free radical damage, and the detox dynamo compound sulforaphane, which increases the production of antioxidant and detoxification enzymes, and stimulates the production of glutathione for liver cleansing.
Rich in iron and sulfur, cabbage is an excellent source of vitamin C, a good source of vitamin A, making it a great muscle builder and blood cleanser. It is also wonderful for skin and eye health.
Cabbage juice, in particular, is a magical elixir that helps to heal all kinds of ailments. The Romans and Greeks used to drink raw cabbage juice to relieve sore and infected eyes. It can also help reduce headaches, and respiratory complaints such as asthma and bronchitis. Really effective for treating fungus infections, cabbage juice is also a brilliant digestive aid, fostering the proliferation of healthy bacteria in the stomach, preventing stomach ulcers.
Check out Robyn's ebook – Smoothies & Juices For Newbies. This book contains her favorite introductory juice and smoothies recipes. She also shares information on juicing and blending, weight loss and weight gain tips, ingredient and kitchen equipment tips, and tips for making your own nut milks.
THE BLENDAHOLIC SHOW TRAILER

THE BLENDAHOLIC SHOW TRAILER: Hi, my name is Tess and I'm a Blendaholic. Every Monday I share super easy recipes you can make in your blender! I'm blending up smoothies, cocktails, soups, appetizers, snacks, main meals, and desserts. There isn't anything I won't try in a blender, and all of the recipes are mind-blowingly delicious. So, dust off your blender, and tune in to The Blendaholic every Monday at 7AM PST to find your perfect blend. Find more easy healthy recipes at The Blender Girlhttps://www.theblendergirl.com/

Posted by The Blendaholic on Monday, January 22, 2018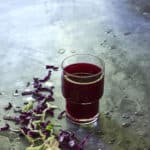 Apple, Ginger, Beet, Cabbage Juice
This sweet cabbage detox juice blend is surprisingly tasty, and is a a cleansing crusader.
Ingredients
1/8

green cabbage

1/8

red cabbage

2

ribs

celery 

1/2

red beet,

scrubbed

1

green apple,

cored

1

carrot,

scrubbed

1

lemon,

peeled

1

(1-inch) piece

fresh ginger root,

plus more to taste
Instructions
Push the ingredients through your juicer, and strain with a fine mesh sieve.