Watermelon Popsicles
---
September 5, 2018
These watermelon popsicles with strawberry and mint are really easy to make, super refreshing, and loaded with nutrients.
These watermelon popsicles with strawberry and mint are super easy to make with just 5 ingredients; are really refreshing, hydrating, and delicious; and are loaded nutrients.
The combo of watermelon, strawberries, and mint is one of my favorites. I often blend fresh watermelon, berries, and mint to make a hydrating drink to sip on throughout the day. But, when you freeze that blend the flavor dulls a bit, and so for these popsicles I've just added some dates to sweeten the deal, and a pinch of salt to bring out the natural flavor of the watermelon.
I developed these watermelon popsicles as part of my new partnership with The Fresh 20 where I will share a recipe every two weeks on their new blog. I wanted to share these watermelon popsicles with you while the watermelon is still wonderful.
I know the weather is starting to get a bit cooler on the east coast. But, it is still really hot in L.A, and these watermelon popsicles have been on heavy rotation in our house all summer. They are such a tasty way to stay hydrated in the hot weather.
Watermelon is over 90% mineral-rich water that is loaded with vitamin A (through beta-carotene) and vitamin C to boost immunity, and sodium and potassium to hydrate, fight fatigue, and replenish electrolytes.
Watermelon is also packed with lycopene and glutathione antioxidants that act as anti-inflammatory agents protecting the heart, bones, skin, respiratory system, and prostate in men. Our kidneys convert the citrulline in watermelon to the amino acid arginine, which is an incredible detox agent, so watermelon is fantastic for cleansing, too.
Strawberries are also high-water-content fruits that help to combat oxidation to reduce the degeneration of cells, tissues, and organs. Rich in phytonutrients, vitamin C, mineral buffers, and omega-3s, strawberries are also packed with antioxidants that calm inflammation to protect the eyes, muscles, blood, and nervous system.
And mint is not just for fabulous flavor. The delicious herb is rich in potassium, calcium, iron, manganese, magnesium, fiber, and antioxidant vitamins A (from beta-carotene), C, E, and K to help build healthy blood, bones, and teeth, and support the cardiovascular system. Mint is also wonderful for cleansing the blood and bowels, and has a natural cooling effect on the body.
So, these watermelon popsicles are a terrific healthy treat that kids absolutely love! These popsicles have a delicious sweet flavor and have a pretty pink color.
If you don't have popsicle molds, freeze this mixture in glasses or bowls to make slushies, or freeze in ice cube trays for small bite-sized treats. You can also drop the watermelon ice cubes to flavor water.
You can find more easy recipes like this at The Fresh 20.
For those of you who haven't used The Fresh 20, this meal planning service was one of the first healthy meal planning companies and is still one of the best. The company was founded by my dear friend Melissa Lanz as a way to help her family and friends eat in a more healthy way. Read more about her story here.
The Fresh 20 recipes are developed by chefs and nutritionists; the dishes have just a handful of ingredients that can all be purchased at a regular grocery store; and they taste delicious. Furthermore, with The Fresh 20, there is no waste, and you save time and money.
How The Fresh 20 work?
Each weekly meal plan (for 5 dinners) uses a shopping list of 20 seasonal ingredients. You get five balanced weekly dinner recipes that utilize those 20 ingredients in different ways, and the recipes play off of each other. The weekly meal plan uses everything on the shopping list so you don't waste food and save money.
There are meal plans for any lifestyle or dietary preference. There are meal plans for classic diets, gluten-free, paleo, vegetarian, and Kosher diets, as well as meals for families, couples, or meals for one.
I love the vegan and vegetarian meal plans.
Try The Fresh 20 for free to see if you like the meal plans and the recipes, and subscribe to their blog so you can get the recipes I am sharing over there.
THE BEST VEGAN MAC AND CHEESE

This is THE BEST VEGAN MAC AND CHEESE. This is rich and cheesy, you'd never know it was dairy-free. I love adding mushrooms and herbs for full flavor. But, you could leave it plain for kids. GET THE FULL PRINTED RECIPE:https://www.theblendergirl.com/recipe/the-best-vegan-mac-and-cheese/

Posted by The Blendaholic on Thursday, August 30, 2018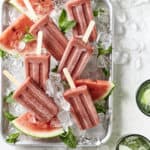 Watermelon Popsicles
These watermelon popsicles with strawberry and mint are really easy to make, super refreshing, and loaded with nutrients.
Instructions
Throw the watermelon, strawberries, dates, and salt into your blender, and blast on high for 30 to 60 seconds until smooth.

Add the mint, and pulse on low for 10 to 20 seconds until the mint is chopped up but not completely pulverized.

Pour the mixture into popsicle molds, and place into the freezer for 6 to 8 hours until frozen.