Vegan Tofu Benedict
---
January 31, 2018
This tofu benedict is a delicious easy 15 minute breakfast. If you're plant-based or have an egg allergy and are craving eggs benedict, this dish will hit the spot!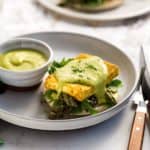 Vegan Tofu Benedict
This tofu benedict is vegan and gluten free, and only takes 15 minutes to make. This is a delicious, super easy vegan breakfast the whole family can enjoy.

Ingredients
Avocado Hollandaise Sauce:
For Assembly:
4

gluten-free English muffins,

split and toasted 

3 to 4

ounces

baby arugula

1/4

cup

flat-leaf parsley,

finely chopped
Instructions
To prepare the eggless tofu patties, take your tofu slices and blot them lightly with paper towels to remove the excess moisture on the surface. Combine the nutritional yeast, onion powder, black salt, turmeric, and pepper in a small dish, and dredge the tofu in the mixture, coating on all sides as thoroughly.

In a large skillet over medium-high heat, warm the oil, and gently add the slices of tofu in one even layer, making sure that all pieces make full contact with the bottom of the pan. Cook for 2 minutes without moving them, and then flip, cooking for another minute or two on the opposite side, until lightly golden around the edges. You're not looking for a hard sear here, but a tender crust that will help the seasoning to stay put. Remove the patties and set them aside.

Meanwhile, quickly throw together the hollandaise by tossing all the ingredients, except for the oil, into your blender or food processor. Puree on high speed, pausing as needed to incorporate everything into a smooth blend. Slowly drizzle in the oil with the motor running to fully emulsify the mixture.

Once the tofu is out of the pan, tap out any browned pieces of crust that might remain and return the pan to the stove. Sauté the asparagus in olive oil for a minute before adding in all the remaining liquid ingredients at once. Stir thoroughly to combine, tossing the asparagus to coat. Continue stirring periodically until the vegetables are bright green and fork-tender. There may still be some excess marinade that hasn't fully absorbed; drain if necessary.

To assemble, place two halves of toasted English muffin on each plate and top each with a handful of arugula. Place a tofu egg patty on top next, followed by a layer of smoky asparagus, lining up as many stalks as will comfortably fit in a row. Finish the whole thing with a generous spoonful of avocado hollandaise sauce and a sprinkle of chopped parsley.