Creamy Zucchini Soup
---
October 30, 2016
Make this creamy zucchini soup in your high-speed blender in 10 minutes, or warm on the stove. This easy soup is vegan, gluten-free, and paleo-friendly.
This creamy zucchini soup is super easy to make and heat in your high-speed blender! If you're using a conventional blender, blend and then transfer to the stove top to warm.
I made this zesty zucchini soup in a presentation I did in Dallas last weekend at the Nebraska Furniture Mart sharing recipes with the new KitchenAid® Pro Line® Series blender.
It was so exciting to give away four blenders to people in the audience. I also loved meeting some of you who came to the event. You can watch the event on facebook. I apologize that the video is a bit blurry. The WIFI connection wasn't very strong. You can also read the post I wrote for the NFM blog.
One of the most exciting features of the new Pro Line® Series blender is that it has the world's first insulated dual-wall container that heats soup faster than any other machine. Sometimes it is so fast, it's getting my soup piping hot in less than 3 minutes. The time and temperature will vary depending on your ingredients. But, it's souper fast!
The thermal container also keeps your soup hotter for longer like an insulated coffee flask. It is so awesome. So, if I'm entertaining or preparing other components of the meal I just leave the soup sitting in the container with the lid on, and it's still hot when I'm ready to serve everything else. The dual-wall jar also keeps the outside of the container cool to the touch, which is fantastic when you're cooking soups with kids.
The other thing I love about this machine is the reinforced lid. It doesn't warp or bend or pop off like so many other blenders lids. This feature means that the lid is completely secure and doesn't move when you're blending hot soups. Just hit the soup setting or turn the variable-speed dial up to high, and let the machine do all of the work.
There is also an extra-wide center lid opening where you can add large pieces of vegetables, nuts, or seeds while the machine is running, and the center lid cap doubles as a 1/4 cup (60ml) measurer to add oils, broth, milks, and other liquids.
This machine allows for complete control and safety when you're making soups. Other machines have plastic bases and containers that sit on top of the jar pad. The KitchenAid blender has a die-cast metal base (like your stand mixer) and a jar pad that holds the container slightly indented, so the container doesn't move when blending at extremely high speeds. This blender has the most power at the blade so it is really powerful. The superior 10-year warranty (other machines have 7-year warranties) is nice, too.
Making a soup from raw ingredients is one of the quickest easiest ways to get a hot meal on the table in the least amount of time. The friction of the blades spinning at such high speeds coupled with the dual-wall container allows the Pro Line® Series blender to heat soup faster than the other machines on the market.
Because you're not boiling and simmering soup in a traditional way, there are a few tips to get the best flavors. I love using onion and garlic powder in place of fresh onion and garlic as it delivers a milder and more balanced flavor profile. Just one rib of celery is enough to add another dimension of flavor. I like to add a creamy texture with raw unsalted cashews, blanched slivered almonds, or avocado. Be sure to use good quality broth, too. When I don't make my own, I always use Massel.
Squeezing in some lemon juice lifts and brightens flavors, adds back-end zing, and takes the edge of pungent ingredients like leafy greens, earthy roots like beets, and balances spices like red pepper flakes, turmeric, cumin, coriander, and cayenne. I've peeled my zucchini in order to get a gorgeous white or pale green color. But, you could use the skin for additional nutrients.
When I'm serving simple soups I like to top them with either mounded leafy greens like arugula or chiffonaded spinach; or a scoop of cooked grain like quinoa or millet; a handful of raw nuts and seeds like cashews, sliced almonds, pine nuts, pumpkin seeds, sunflower seeds, or hemp seeds; some chopped herbs like parsley, cilantro, basil, or chives; or a sprinkle of spices like nutmeg, cayenne, red pepper flakes; or some freshly ground pepper and salt.
The holidays can be a really crazy-busy time, and you don't want to compromise on your health and nutrition because you're running around. Making quick easy soups is a great way to keep nourished and sustained during this period. They're also fabulous last-minute meals.
The new Pro Line® Series blender makes an awesome holiday gift, too. In the United States, you can find this blender at Williams-Sonoma, Macy's, Bloomingdales, Bed Bath & Beyond, and Nebraska Furniture Mart. It will hit other stores in the U.S in January, and will be available in Australia and Europe in November.
Let me know what you think of this zucchini soup.
*I am the spokesperson for KitchenAid® blenders. But, my opinions are my own.
THE BLENDAHOLIC SHOW TRAILER

THE BLENDAHOLIC SHOW TRAILER: Hi, my name is Tess and I'm a Blendaholic. Every Monday I share super easy recipes you can make in your blender! I'm blending up smoothies, cocktails, soups, appetizers, snacks, main meals, and desserts. There isn't anything I won't try in a blender, and all of the recipes are mind-blowingly delicious. So, dust off your blender, and tune in to The Blendaholic every Monday at 7AM PST to find your perfect blend. Find more easy healthy recipes at The Blender Girlhttps://www.theblendergirl.com/

Posted by The Blendaholic on Monday, January 22, 2018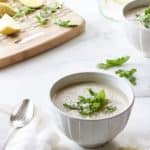 Creamy Lemon Zucchini Soup
Make this creamy zucchini soup in your high-speed blender in 10 minutes, or warm on the stove. This easy soup is vegan, gluten-free, and paleo-friendly.

Instructions
Throw all of the ingredients (except the arugula) into your KitchenAid® Pro Line® Series blender blender, and process on the soup setting, or on high for 3 to 5 minutes until the soup is piping hot. Toss the arugula with ¼ teaspoon olive oil and a pinch salt and pepper.

Pour the soup into two bowls, and garnish with a mound of seasoned arugula.