Righteous Roasted Beet Dip
from The Perfect Blend cookbook
---
October 14, 2010
This roasted beet dip has a mind-blowing flavor that will turn beet skeptics into beet fans. Serve with vegetable sticks or crackers.
The Most Incredible Roasted Beet Dip
This roasted beet dip is one of the most incredible dips I've ever tasted, and is loaded with cleansing nutrients.
I first made a version of this beet dip when I was volunteering in my mum's school kitchen. My friend Judy had her eight-year-old students hopping into this like it was hamburgers! Suffice it to say, this dip gets raves from beet skeptics.
I've spiced the original beet dip recipe with more garlic, chile, and salt, and added some lemon juice to brighten the flavors. You will need a high-speed blender or a food processor for this one. Unlike a lot of other beet dip recipes, this roasted beet dip is dairy free, as well as egg free, nut free, soy free, and gluten free.
I shared this brilliant beet dip with Kris and Courtney (AKA my staunch beet-phobe skeptics) who took their first bite with a dreaded wince that quickly turned into a look of orgasmic surprise, coupled with a mouse-like falsetto cry of, "I didn't know beets could taste this good!" They are now beet-loving converts.
If anyone says they don't like beets, this roasted beet dip will turn them around.
People far and wide agree, this beet dip is a stunner, a winner, and not to be missed!
Get 100 Delicious Healthy Recipes
My Top 100 Healthy Recipes are in The Perfect Blend cookbook.
Please let me know what you think of this recipe in the comments!

Your feedback is really important to me, and it helps me decide which recipes to post next for you.
MIND-BLOWING ROASTED BEET DIP

Do not miss making this MIND-BLOWING ROASTED BEET DIP. Even people who hate beets LOVE this dip. It is so delicious! GET THE FULL PRINTED RECIPE:https://www.theblendergirl.com/recipe/vegan-roasted-beet-dip/

Posted by The Blendaholic on Saturday, July 28, 2018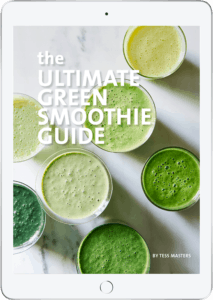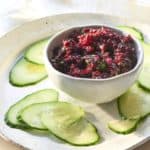 Righteous Roasted Beet Dip
This Roasted Beet Dip from The Perfect Blend cookbook has a mind-blowing flavor that will make your weak in the knees. Throw everything in your blender.

Total Time
1
hour
30
minutes
Ingredients
4

cups (600g)

peeled and cubed raw beets

1/4

cup (60ml)

extra-virgin olive oil

1/2

teaspoon

Celtic sea salt,

plus more to taste

3/4

teaspoon

ground cumin

3/4

teaspoon

ground coriander

2

teaspoons

minced garlic

(about 2 cloves)

2

teaspoons

fresh lemon juice,

plus more to taste

1

teaspoon

ribbed seeded, and finely chopped green chile,

plus more to taste

1/3

cup (9g)

finely chopped cilantro leaves,

to serve
Instructions
Preheat the oven to 400°F (200°C).

Line a baking sheet with a silicone liner or parchment paper. Toss the beets with 2 tablespoons of the olive oil and 1⁄4 teaspoon of the salt. Arrange the beets on the baking sheet in a single layer and roast for about 1 hour, tossing periodically, until the beets are tender. (You don't want any burnt bits.) You should have about 2 cups (320g).

Throw the beets into a high-speed blender or food processor and add the remaining 2 tablespoons of olive oil, the ground cumin and coriander, the garlic, chile, lemon juice, and the remaining 1⁄4 teaspoon of salt. Blast until well combined. Tweak the garlic, chile, lemon juice, and salt to taste. Transfer the dip to a bowl and stir in the cilantro.