This vegan cream of spinach soup has been a staple in my house for years. It's ludicrously easy, absolutely scrumptious, and freezes well. If you want to cut down on prep time you could skip roasting the garlic, and instead, sauté 1 tablespoon minced garlic with the onions and salt at the beginning of the recipe. But, whole roasted garlic does bring an exquisite depth of flavor that's hard to beat.
Like the creamy cauliflower soup, blending in 1/4 cup of blanched almonds or raw cashews creams up this blend. For those of you following the Body Ecology Diet, use blanched almonds in place of the cashews, as they're alkaline forming. Be sure to soak the nuts in the cooked soup and blend thoroughly to ensure the smoothest consistency. Resist the urge to add more spinach as it can make your soup watery.
I serve this soup with a scoop of cooked grain (quinoa, millet, brown rice), but you may prefer some crusty bread.
Either way, this cream of spinach soup seduces even the most devoted spinach skeptic. Popeye would be proud.
CREAM OF SPINACH SOUP

This CREAM OF SPINACH SOUP from The Blender Girl cookbook is really easy and delicious. Resist the urge to add more spinach as it will make your soup too watery. GET THE FULL RECIPE:https://www.theblendergirl.com/recipe/vegan-cream-of-spinach-soup/

Posted by The Blendaholic on Wednesday, September 12, 2018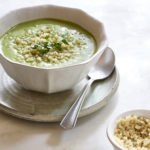 Vegan Cream Of Spinach Soup
This popular vegan cream of spinach soup from The Blender Girl cookbook is super easy and absolutely delicious.
Total Time
1
hour
30
minutes
Instructions
Preheat the oven to 350°F (180°C).

Cut off the top of the head of garlic, wrap the bulb in aluminium foil, and roast it on a baking sheet for 30 to 40 minutes, until tender. Allow the bulb to cool and then squeeze the garlic pulp out of the husks. This should yield 2 tablespoons or more of roasted garlic. Set aside.

Heat the oil over medium-high heat in a large saucepan. Add the green onions, red onion, and 1/4 teaspoon of salt and sauté for 5 minutes, until the onions are translucent. Add the celery, zucchini, and parsley and sauté for 5 minutes more.

Stir in the roasted garlic and the vegetable broth. Increase the heat to high and bring just to a boil. Reduce the heat to medium and simmer for 10 minutes. Add the spinach and simmer for 5 minutes more, until the leaves are just tender.

Remove the saucepan from the heat and allow the soup to cool somewhat. Stir in the nuts.

Pour the soup into your blender in batches, and puree on high for 30 to 60 seconds until smooth and creamy.

Return the soup to the saucepan and warm over medium-low heat. Season to taste with salt and pepper and serve.