Vegan Cream of Broccoli Soup
---
November 23, 2015
This vegan cream of broccoli soup is also gluten-free and paleo-friendly and is super creamy thanks to a blend of cauliflower and blanched almonds.
Vegan Cream of Broccoli Soup
This vegan cream of broccoli soup is a staple in our house. This brilliant broccoli soup tastes like it's got gobs of cream in it, but the velvety texture comes from the alchemy created between the cauliflower and the blanched almonds. Oh, the amazing results you can get in your blender!
I cannot believe it's the week of Thanksgiving already! Where has the year gone? I am not complaining because I absolutely love the holiday season. I really enjoy entertaining, cooking for friends and family, and celebrating all of the wonderful things I am thankful for with loved ones. It is a really special time.
This year, Scott's parents and his best friend Richard have flown down from Sacramento to spend the week with us. We have a lot of cooking and eating planned! Except on thanksgiving! Ha! We don't cook at home on that day. We have a tradition where we all cook and feed the homeless with our dear friends in Santa Monica, then we all enjoy an early dinner at The Ivy, and then come home for cocktails and dessert.
The cooking occurs on all of the days around thanksgiving and well into Christmas. On December 18th (yes I am counting the days) I turn in the manuscript for my next book which will be released in January 2017, and pick up my parents from the airport. They are staying with us for 5 weeks! Yipppeee! We will all head up to Sacramento to spend Christmas with Scott's parents. We're also going to tour around Napa, drink some lovely wine, then we're all going to Mexico for a much needed family vacation! I cannot wait.
In the meantime I am cooking up a storm and creating some awesome holiday recipes for our holiday parties. I always start winter meals with a bowl of soup, and this vegan cream of broccoli soup is on the menu for this year! This broccoli soup is quick and easy (you can throw it together in less than 30 minutes), and it is absolutely delicious.
When making plant based soups the broth you use is critical. Because you're not using chicken broth or meat to hit that umami note, you need a broth that has incredible flavor, but not an overbearing taste that overpowers that natural character of the vegetables. In a perfect world we would make our own broth, but most of us don't have the time. So, convenience products come in really handy when you need to get a quick healthy meal on the table in a limited amount of time.
There are a lot of commercial vegetable broths on the market. But, most of them either taste bland and revolting, are over-salted and have too many additives, or could be mistaken for MSG-assisted swill.
I love Massel vegetable broth. I grew up using Massel (like most families in Australia), and would never use anything else. I have been using Massel stock cubes and broth for over 35 years, and I still haven't found any other commercial product that comes anywhere close to the depth of flavor and purity of the Massel products.
The Massel broth is so incredible, they dominate over 70% of the market in Australia. I don't know an Aussie family that doesn't have their product in their pantry. It's almost a national treasure like Vegemite! But, unlike Vegemite, Massel is still Australian owned, and still a family owned company.
Everybody I give the broth to completely freaks out when they taste it, agreeing with me that it is the best broth they have ever tried. It is so good you can literally drink it like tea! And the best part? It is inexpensive, tastes phenomenal, and is gluten-free, vegan (dairy-free and egg-free), preservative free, kosher, no trans fats, GMO-free, no added MSG, low carb, and salt reduced. This broth is made with all natural ingredients, and you can buy broth in the form that you like, too.
You can get Massel broth in concentrated liquid stock, bouillon cubes, handy travel 7's cubes, and all-purpose bouillon powder and seasoning. You can get Massel broth in three flavors – vegetable, chicken, and beef, and they are all vegan! The chicken broth literally tastes like it's made with chicken fat, but it is not! Sooooo good!
In the US, you can get Massel broth on Amazon.
This vegan cream of broccoli soup is sensational, and freezes really well. Enjoy.
*I am an ambassador for Massel. But, my opinions are my own.
CREAM OF BROCCOLI SOUP

This CREAM OF BROCCOLI SOUP is quick and easy, rich, creamy, and so delicious. GET THE FULL PRINTED RECIPE:https://www.theblendergirl.com/recipe/vegan-cream-of-broccoli-soup/

Posted by The Blendaholic on Saturday, May 19, 2018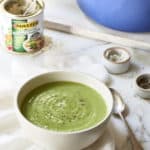 Vegan Cream of Broccoli Soup
This vegan cream of broccoli soup is also gluten-free and paleo-friendly and is super creamy thanks to a blend of cauliflower and blanched almonds.

Instructions
In a large saucepan, heat the oil over medium heat and sauté the garlic, onions, and 1/4 teaspoon of natural salt for about 5 minutes, until the onions are soft and translucent. Add the cauliflower and sauté for another minute. Add the vegetable broth, increase the heat to high, and bring just to a boil. Reduce the heat to medium and simmer partially covered for about 10 minutes, until the cauliflower is just tender.

Add the broccoli and the remaining 1/4 teaspoon of salt. (The broth may not completely cover the vegetables but the broccoli will release liquid as it cooks.) Simmer for 3 to 5 minutes, just until the broccoli is al dente and still vibrant green. Be careful not to overcook.

Remove the saucepan from the heat and allow the soup to cool slightly; stir in the nuts. Pour the soup into your blender in batches and blast on high for 30 to 60 seconds, until smooth and creamy. Return the soup to the saucepan and warm it over low heat. Season with salt and pepper to taste.

To serve, ladle the soup into bowls, and serve with crusty bread or a scoop of cooked grains.