This vegan cream of artichoke soup from The Perfect Blend cookbook is really easy to make and is absolutely incredible.
For those of us who love artichokes, there's not alway time to trim, stem, and steam to get our fix. This super-easy artichoke soup gets to the heart of the matter with a fraction of the work!
With rich flavor and velvety texture, this artichoke soup is awesome served hot or cold, or as a sauce for grains or cooked veg. For the best flavor, use defrosted frozen artichoke hearts. I get the packs from Trader Joes. I've tried all kind of plain canned artichokes and the flavor has a citric-acid aftertaste that is not pleasing not matter how much I rinse them. If you use canned chokes, add more cauliflower to balance the flavor.
Add lemon juice to taste to complement the character of your artichokes, and don't miss adding the thyme and truffle boosters that send this cream of artichoke soup into a divine dimension.
If you're not a fan of artichokes, tone down the distinct artichoke flavor by adding 1/2 cup to 1 cup of extra cauliflower to the soup. This will yield a delightful creamy soup with a milder flavor.
Either way, this cream of artichoke soup is a stunner, winner, and not to be missed.
CREAM OF ARTICHOKE SOUP

This CREAM OF ARTICHOKE SOUP is absolutely incredible and so easy to make. I'm using nuts to get a super creamy texture. I use the frozen artichoke hearts from Trader Joe's. GET THE FULL PRINTED RECIPE:https://www.theblendergirl.com/recipe/vegan-cream-of-artichoke-soup/

Posted by The Blendaholic on Saturday, October 20, 2018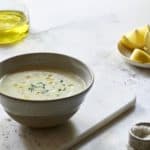 Vegan Cream Of Artichoke Soup
This vegan cream of artichoke soup from The Perfect Blend cookbook is really easy to make and is a show-stopper. Don't miss it.
Ingredients
2

tablespoons

grapeseed oil

(or extra-virgin olive oil)

2

cups (300g)

diced yellow onion

2

teaspoons

minced garlic

(about 2 cloves)

1

cup (100g)

chopped cauliflower florets

6

cups (1.4l)

vegetable broth

4 1/2

cups (720g)

thawed frozen artichoke hearts

(or 3 (8.5-ounce/240g) cans artichokes in water)(see notes)

1/4

cup (35g)

blanched slivered almonds

1 1/2

tablespoons

fresh lemon juice,

plus more to serve
optional boosters:
1 1/2

teaspoons

finely chopped fresh thyme,

plus more to taste

2

teaspoons

truffle oil

1

tablespoon

finely chopped flat-leaf parsley
Instructions
In a large saucepan, heat the oil over medium heat and sauté the onions and garlic with a pinch of salt for about 5 minutes until the onions are soft and translucent. Add the cauliflower and sauté for another minute.

Add the vegetable broth, artichokes, 1/2 teaspoon of the salt, the pepper; increase the heat to high and bring just to a boil. Reduce the heat to medium and simmer, uncovered, for about 20 minutes, until the cauliflower is just tender.

Remove the saucepan from the heat, stir in the nuts and fresh thyme booster, and allow the soup to cool slightly.

Pour the soup into your blender in batches and puree on high for 30 to 60 seconds until smooth and creamy. (For conventional blenders, remove the small center lid cap and cover the opening with a kitchen towel so steam can escape while you blend.) Return the soup to the saucepan, add the remaining 1/2 teaspoon salt, lemon juice, and truffle oil booster. Tweak the salt, pepper, lemon juice, and thyme to taste, and warm the soup over low heat. This soup also tastes phenomenal cold.

To serve, ladle the soup into bowls and garnish each bowl with freshly ground pepper and the parsley booster. Pass lemon juice, pepper, and salt at the table.