This vegan cream of asparagus soup is so easy and really delicious.
Asparagus is one of the most alkalizing foods on the planet. This sensational spear is loaded with Vitamin C, is a good source of zinc and selenium, and contains an arsenal of antioxidants that fire on free radicals. It's also a powerful prebiotic food that contain inulin, a magical fiber that remains in tact all the way to the intestines where it promotes the growth of friendly bacteria for gut health.
Asparagus is also a natural diuretic; and contains significant amounts of folic acid and B6 for heart health; Vitamin K, calcium, and magnesium for bone health, and manganese and B vitamins for energy. It's a pretty perfect food.
The trick to making awesome vegan cream of asparagus soup is to use cauliflower and blanched almonds to add body and creaminess to an otherwise watery experience. A splash of lemon juice lifts and brightens the flavors, let's the asparagus shine, and transforms an otherwise "so-so" soup into a sublime sensation.
THE BLENDAHOLIC SHOW TRAILER

THE BLENDAHOLIC SHOW TRAILER: Hi, my name is Tess and I'm a Blendaholic. Every Monday I share super easy recipes you can make in your blender! I'm blending up smoothies, cocktails, soups, appetizers, snacks, main meals, and desserts. There isn't anything I won't try in a blender, and all of the recipes are mind-blowingly delicious. So, dust off your blender, and tune in to The Blendaholic every Monday at 7AM PST to find your perfect blend. Find more easy healthy recipes at The Blender Girlhttps://www.theblendergirl.com/

Posted by The Blendaholic on Monday, January 22, 2018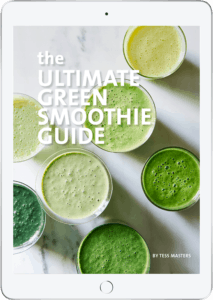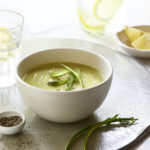 Vegan Cream Of Asparagus Soup
This vegan creamy of asparagus soup is rich, simple, and delicious.
Ingredients
2

tablespoons

extra-virgin olive oil

1

tablespoon

minced garlic

(3 cloves)

2

medium leeks,

washed and thinly sliced (white parts only)

1

teaspoon

Celtic sea salt,

plus more to taste

6

cups

vegetable broth

1

cup

chopped cauliflower florets

2

bunches (700g)

asparagus,

stalks trimmed, and chopped

1/8

teaspoon

freshly ground black pepper,

plus more to taste

1/4

cup

blanched slivered almonds

1

tablespoon

fresh lemon juice,

plus more to serve
Instructions
In a large saucepan over medium-high heat, warm the oil, and sauté the garlic, leeks, and 1/4 teaspoon of the salt for 3 to 4 minutes, until the leeks are translucent. Add the vegetable broth and the cauliflower, increase the heat to high, and bring just to a boil. Reduce the heat to medium and simmer, uncovered, for about 10 minutes, until the cauliflower is al dente. Add the asparagus, pepper, and the remaining 3/4 teaspoon salt and simmer for about 5 minutes more, until the asparagus is tender but still crisp.

Remove the saucepan from the heat and allow the soup to cool a bit; stir in the almonds.

Pour the soup into your blender in batches and puree on high for 30 to 60 seconds, until smooth and creamy. (For conventional blenders, remove the center cap in the lid and cover the opening with a kitchen towel so steam can escape while you blend.)

Return the soup to the saucepan, stir in the lemon juice, add salt and pepper to taste, and warm over medium-low heat.

To serve, ladle the soup into bowls and pass lemon juice at the table.

​